I have been using Kirkland Minoxidil 5% foam for a couple of months now. I am getting the side effect of scalp irritation – can you suggest a cream/other treatment/or tip that can help with this? Your help is really appreciated.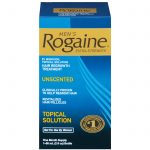 It's unusual for Rogaine Foam or generic minoxidil foam products to cause irritation. Normally guys will experience this from the liquid solutions containing propylene glycol which can irritate the skin. Switching to foam usually resolves this issue.
If you're applying the foam twice daily, I'd first suggest reducing the application to once daily. Some hair restoration physicians state that one application per day is almost as effective as two. If that doesn't work, it's possible that switching to a 2% formula may help. I'm aware of a 2% foam and a 2% cream but I have no personal experience with them.
David
Editorial Assistant and Forum Co-Moderator