Thu 1 Dec 2016
I m 26 years old and i just had a hair transplant and now I m confused that after my hair transplant wich treatment should I consider acell ,prp or laser to save my remaining old hair and stop hair and and maintain it thicken it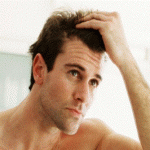 Your hair transplant surgeon should have discussed the progressive nature of androgenic alopecia (genetic balding) with you along with today's most effective medical hair loss treatments. It's always best to discuss these concerns with your doctor and you may end up needing a prescription.
While ACell, PRP and Low-Level Laser Therapy have their place in hair restoration, their effects on hair growth remain as yet unproven. Currently, the only clinically proven and FDA approved non-surgical hair loss treatments are Propecia (finasteride) and Rogaine (minoxidil. These drugs when used in combination offer the best chance to retain existing hair and potentially regrow hair that has already been lost.
If you have not already done so, I suggest contacting your hair transplant surgeon for more advice on these excellent hair loss treatments.
David
Editorial Assistant and Forum Co-Moderator for the Hair Transplant Network, the Coalition Hair Loss Learning Center, and the Hair Loss Q & A Blog.
Technorati Tags: hair transplant, androgenic alopecia, balding, hair loss treatments, ACell, PRP, Low-Level Laser Therapy, hair restoration, hair growth, hair loss, Propecia, finasteride, Rogaine, minoxidil, regrow hair