Mon 10 Mar 2014

Will the hair transplant of the future be performed by a robot? Coalition hair transplant surgeon Dr. Robert Bernstein of New York recently introduced new advances to the ARTAS Robotic System that bring fully automated surgical hair restoration one step closer to reality.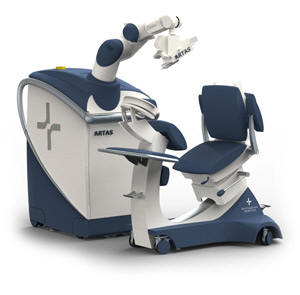 Dr. Bernstein is a pioneer in the use of the ARTAS robot in follicular unit extraction (FUE) hair transplantation. However, to date, hair restoration physicians using the machine have only been able to extract donor grafts. The creation of recipient site incisions remains a labor-intensive procedure performed manually by the surgeon. But, that is about to change with the introduction of new technology that allows the ARTAS Robotic System to quickly and accurately create these incisions.
This new recipient site creation technology, which will be available to hair restoration physicians in the fall of 2014, works in conjunction with software called ARTAS™ Hair Studio. After drawing a hairline and other markings on a patient's scalp, the surgeon takes a series of photos from various angles and then feeds them into the software. The program then converts the images into a 3-D model of the actual patient. The physician then specifies the angle, direction, density, and randomness of the recipient site incisions to create the most natural look. During the procedure, the robot uses image-guided technology to avoid existing hairs while it creates up to 1,500 recipient sites per hour.
On the advancement, Dr. Bernstein said: