Sun 24 Aug 2014
This question comes from a member of our hair loss social community and discussion forums:
I'm finally ready to do something about my hair loss. I want to start minoxidil (Rogaine) and finasteride (Propecia); however, I'm not sure if I can start these at the same time. Is it advisable to start Rogaine and Propecia at the same time?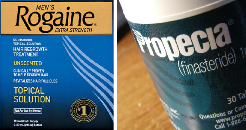 Rogaine and Propecia, according to many hair loss experts, have a "synergistic" effect when taken together. In other words: minoxidil and finasteride enhance the effects of one another; taking these drugs together may halt hair loss and regrow hair more effectively. Those starting these drugs together, however, must consider two important issues:
First, both minoxidil and finasteride are associated with an initial shedding phase. During this phase, patients may experience a drastic loss of scalp hair. This period is temporary, usually lasing 3-4 months total, and results in growth of newer, stronger hair. Both of these drugs, however, are affiliated with this shedding phase; this means taking the drugs together, or starting them at the same time, may result in a more drastic or significant shed. The shed is not likely to last longer (than the normal 3-4 months), but it may be more severe.