In this article, recommended hair transplant surgeon Dr. Parsa Mohebi shares his research concerning the effects of wound healing on hair growth.

I recently received an interesting inquiry from a patient regarding hair growth following his leg injury.  The case reminded me of some of my work at Johns Hopkins University School of Medicine on hair growth and wound healing.  I thought this would be an interesting subject for balding men and women who are interested in the latest techniques of hair restoration.  The subject could also be of intrigue for doctors who thrive on developing new ways to help their patients through the means of quality hair restoration research.
This patient explained a condition in which he noticed brand new hair which appeared to be growing out of a healing wound he had as a result of a biking injury. The patient found this discovery to be fascinating and wondered what scientific studies have recorded cases of this type, and how his predicament can be seen as a benefit to science.
When doing research on wound healing at Johns Hopkins University, our team did research on an animal model which revealed to us that wound healing can enhance the growth of hair. This result came as a shock when looking at different wound healing studies. It was noted there were gene therapy techniques which may have possibly affected the hair growth in the animals being studied.
Following our astonishing finding, a second set of experiments were designed and performed in response to the question, "What has been the effect of wound healing on the growth of hair".  We have tried to isolate the specific mechanism which caused the new hair to grow. It was obvious during those observations that, when skin is wounded, hair has the potential to grow thicker and faster in the wounded areas. Click image below for larger view.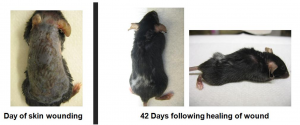 Before we could publish our results a team from the University of Pennsylvania published an article in Nature in 2007, based on a study they had done on an animal model regarding wound healing and hair growth.  This team was led by Dr. George Cotsarelis and the article explained how a piece of hair in mammals is like a "mini organ" which is believed to be gone permanently when removed. What was discovered in mice is, when some of them were wounded, as their wound was healing, stem cells formed around the healing area which created brand new hair follicles. This phenomenon has provoked many questions as to the possibilities of new hair growth through wound healing and stem cells.
When looking at the patient inquiry combined with the studies at both the University of Pennsylvania and our work at Johns Hopkins University, there is a possibility for new findings which can revolutionize the current understanding of hair regrowth and stem cells. These studies have never been duplicated in humans but, if the same mechanism which worked in the animal models works in humans, new and greater possibilities are in the near future.
The key for future study on this subject is to examine the different variables going into the case study. Every piece of the puzzle may contribute to the overall reasons for the new hair growth. In the end, there is a world of possibilities which may be closer to our reach than previously thought. Good experimentation and proper documentation may help this journey move along to greater depths of understanding and can benefit the world of hair restoration with better quality and more available options for the treatment of hair loss..
Click here to see the Nature article by Dr. Cotsarelis and team.
Dr. Parsa Mohebi
—-
David (TakingThePlunge) Forum Co-Moderator and Editorial Assistant for the Hair Restoration Forum and Social Network, the Coalition Hair Loss Learning Center, and the Hair Loss Q&A Blog.
Get Proven Hair Loss Treatments at the Best Prices by visiting our new Online Hair Loss Product Store
Technorati Tags: hair transplant, hair growth, balding, hair restoration, hair regrowth, hair loss