I'm concerned that i'm going bald. My dad is 54 years old, and still has his hair, but my grandfather is completely bald. I'm a 22 year old male, and I feel like my hairline is starting to recede but i'm not sure. I have asked a couple of people and I've gotten mixed responses. Some say yes, other say no. How do I know the early signs of hair loss?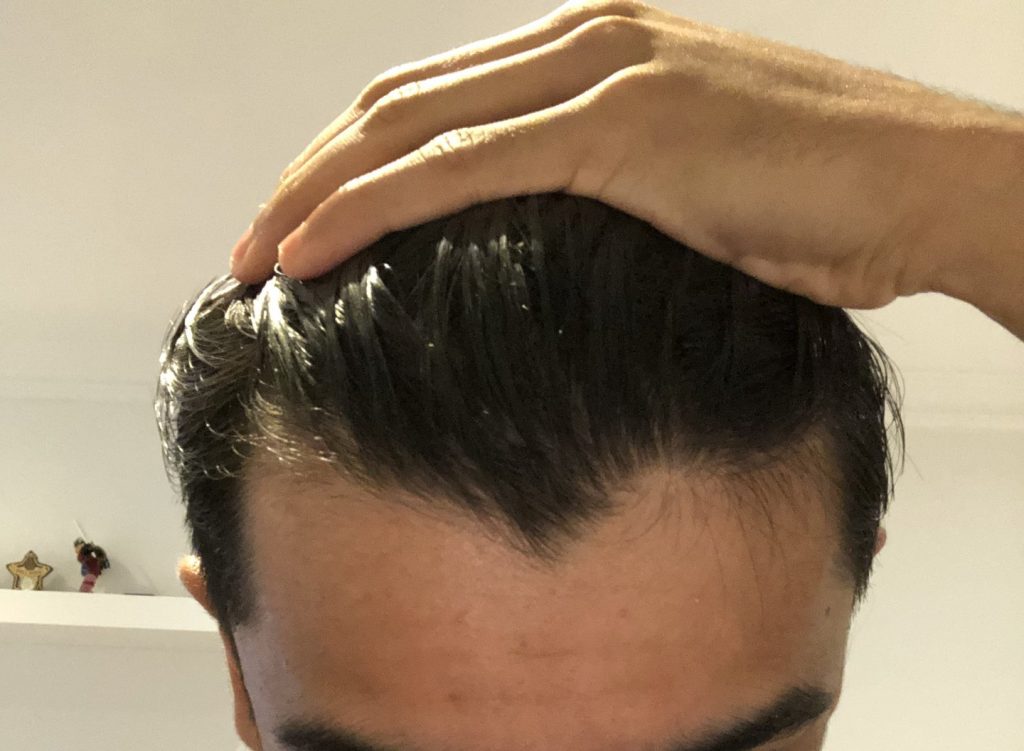 Most of the time, if you think you're going bald, you probably are balding. There are some exceptions, like people with body dysmorphia, but you know your hair better than anyone for the most part. Generally speaking, your hairline will be the first thing to start to recede. There are varying degrees of male pattern baldness. You might exhibit hairline recession at the beginning or general loss of density (diffuse hair loss). You might even experience loss solely in your crown. Genetic hair loss is progressive, so you won't see all of your hair fall at once.
The Balding Process
Hair loss is genetic, but the trigger is hormonal. Dihydrotestosterone (DHT) is the primary hormone responsible for causing hair loss in both men and women. The 5-alpha reductase enzyme is responsible for converting testosterone into DHT. DHT binds to the hair follicle's androgen receptors and gradually shrinks the hair follicles until they no longer grow. DHT shortens the hair follicle's life cycle, and after each life cycle, the hair follicles grow back thinner and shorter.
Compare Old Photos and Take Monthly Progress Pictures
If you're still unsure whether you're losing hair or not, there's one easy way to tell, compare your old photos. Let's say you had a low and straight hairline when you were 18 years old but now have a V-shaped arched hairline at 22 years old; then it's safe to say your hairline is receding. If the position of your hairline hasn't changed, but you're noticing a significant amount of hair shedding. You could be experiencing telogen effluvium, otherwise known as shock loss.
Shock loss can occur for various reasons, surgical trauma, emotional and psychological trauma as well. That said, diffuse pattern hair loss is common. One way to tell if you're losing hair in a diffuse pattern is to wet your entire scalp and take a picture of the top and the sides. If you notice the top is more see-through than the sides, you likely have diffuse pattern hair loss.
Treating Hair Loss
The first line of defense should always be medication. Propecia (finasteride) and Rogaine (minoxidil) are the two drugs approved by the FDA to treat male and female pattern hair loss. However, finasteride can cause undesirable side effects, such as erectile dysfunction, loss of libido, and cognitive conditions like brain fog. There's also a tiny chance of developing post-finasteride syndrome (PFS), side effects after stopping the medication. Minoxidil has some side effects as well, such as tachycardia, palpitations, and skin irritation. However, these side effects subside after stopping the medication. Minoxidil does not inhibit DHT like finasteride. Therefore, it is not as effective.
Hair Transplant Surgery
The most effective method of treating hair loss is surgical hair restoration. However, surgery does not stop or slow the progression of hair loss. Hair transplant surgery should be the last resort. You have to stabilize your hair fall before considering surgery. Otherwise, you could end up losing more hair than you're replacing and end up with a net gain. The best place to research hair transplantation and surgeons is on hair loss forums like Hair Restoration Network. The Hair Restoration Network connects patients worldwide who share their genuine reviews to find out which surgeons are doing good work consistently. To consult with forum-approved hair restoration physicians, to ask about medication, surgery, etc., click here.