This question comes from a member of our Hair Restoration Social Community and Discussion Forums:
I'm in my early 20's and suffering from advanced, progressive hair loss. I'm wondering, should I investigate a hair replacement system (hairpiece) or try something else first?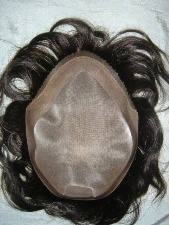 For many hair loss sufferers, a hair replacement system is a viable option. However, before committing to any sort of hair system or hair replacement program, it's important to understand that wearing one of these devices is not a simple task, and patients often end up abandoning hairpieces in search for more permanent, natural solutions. Before progressing, definitely make sure you've researched the issue and are prepared to commit to a hair replacement system.
Furthermore, there are many other effective, proven hair restoration options available (many of which are even more attractive because of your age). First, I highly recommend investigating preventive medications like Rogaine (minoxidil) and Propecia (finasteride). Utilizing these therapies now should stabilize and potentially reverse some of the hair loss, and also open the door to additional options in the future. Finally, after using these medications for some time and maintaining your current level of native hair, surgical hair restoration with a talented hair transplant surgeon is always a possibility.
_______________
Blake – aka Future_HT_Doc
Editorial Assistant and Forum Co-Moderator for the Hair Transplant Network, the Hair Loss Learning Center, the Hair Loss Q&A Blog, and the Hair Restoration Forum
Follow our community on Twitter
Watch hair transplant videos on YouTube
Get Proven Hair Loss Treatments at the Best Prices by visiting our new Online Hair Loss Product Store
Technorati Tags: Hair Restoration, hair loss, hair replacement system, hairpiece, hair loss sufferers, hair system, Rogaine, minoxidil, Propecia, finasteride, hair loss, surgical hair restoration, hair transplant surgeon