This question, from a member of our Hair Restoration Social Community and Discussion Forums, was answered by Coalition hair transplant surgeon Dr. Glenn Charles:
After years of suffering hair loss, I recently had hair transplant surgery. I am almost 3 weeks post-op and I'm applying Vitamin E oil to my donor area. How long should I continue using it and how many times per day? Right now I try to put it on at least once and sometimes twice a day. Is this overkill??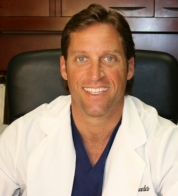 In my hair restoration clinic, I recommend that all patients use Vitamin E oil on the donor wound to reduce the scarring associated with follicular unit transplantation (FUT). I suggest applying it at night before bed although, using it 2 times per day would not hurt.
Applying it in the morning may not be advisable as it can sometimes cause hair styling difficulties.
Dr. Glen Charles
—-
David – aka TakingThePlunge
Assistant Publisher and Forum Co-Moderator for the Hair Transplant Network, the Hair Loss Learning Center, the Hair Loss Q&A Blog, and the Hair Restoration Forum
Get Proven Hair Loss Treatments at the Best Prices by visiting our new Online Hair Loss Product Store
Technorati Tags: hair loss, hair transplant, hair restoration, follicular unit transplantation, FUT