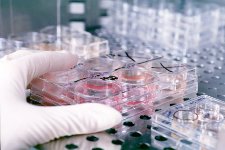 Earlier this week, the hair restoration community was set ablaze by news that a German scientist, Roland Lauster, working at the Berlin Technical University regrew hair follicles from stem cells. According to Lauster, the stem cells not only grew new hair follicles, but injecting these cells into the scalps of hair loss sufferers could make baldness a thing of the past for up to 80% of individuals experiencing thinning.
However, according to the article, and the individuals at the Hair Loss Q & A blog, this finding does not mean patients should throw away their current medications and book a stem cell injection appointment later in the week. As of now, the treatment has only been performed using cells and tissue from mice, and has not been applied to any sort of human model. Second, Lauster himself states that the human phase of the research will not be ready and available for at least 5 years.
So, as previously stated, this new finding is exciting and probably does take us one step closer toward a "cure for baldness," but in the interim, hair loss sufferers should remain "cautiously optimistic" toward these future remedies and continue utilizing proven treatments (such as finasteride/Propecia and minoxidil/Rogaine) for the time being.
Click here for the original article.
_______________
Blake Bloxham – formerly "Future_HT_Doc"
Editorial Assistant and Forum Co-Moderator for the Hair Transplant Network, the Hair Loss Learning Center, the Hair Loss Q&A Blog, and the Hair Restoration Forum
Follow our community on Twitter
Watch hair transplant videos on YouTube
Get Proven Hair Loss Treatments at the Best Prices by visiting our new Online Hair Loss Product Store
Technorati Tags: hair restoration, hair follicles, stem cells, hair loss, baldness, Hair Loss, hair loss sufferers, finasteride, Propecia, minoxidil, Rogaine