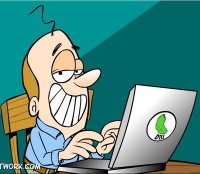 Now you can follow "The Follicular Follies of Balding Bob and Fleckie the Follicle" hair loss cartoon series featuring Balding Bob and his lovable sidekick Fleckie the Follicleon Facebook.  You are encouraged to "Like" our page and follow along with the hilarity.  Our fans will have the ability to post comments and host discussions on any of the episodes or topics that interest them. 
Do you have an idea for any new episodes? Present them on our popular hair loss discussion forum or directly on our Facebook page after you become a fan by "liking" us.
Stay tuned for hilarious hair loss cartoon episodes beginning with Balding Bob starting as a happless newbie who makes all the typical newbie mistakes including buying snake oil hair loss "treatments", wearing bad toupees, falling for late night infomercials and hair mill transplant centers, etc.
We look forward to your feedback.
Bill – Managing Publisher of the Hair Transplant Network, the Hair Loss Learning Center, the Hair Loss Q&A Blog and the Hair Loss Forum and Social Community.
Become a Fan of the Hair Transplant Network Patient Community Facebook page by "liking" us.
Technorati Tags: The Follicular Follies of Balding Bob and Fleckie the Follicle, hair loss, Balding Bob, Fleckie the Follicle, Facebook, hair loss discussion forum