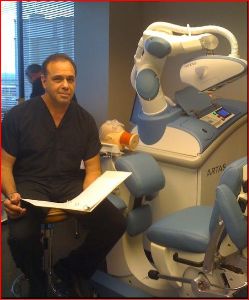 Recently, Dr. Jim Harris, who is recommended on the Hair Transplant Network became amongst the first hair restoration physicians to purchase the ARTAS Hair Restoration System, a hair transplant machine innovated by Restoration Robotics in an attempt to automate the follicular unit extraction (FUE) procedure.  But can ARTAS live up to its promise of increased extraction speeds, lower transection rates, increased session sizes, and optimal hair growth yield?
Like previous FUE extraction machines, the ARTAS Hair Restoration System attempts to increase the speed of extraction (allowing for larger single sessions) while automating the surgical process.  Claims that very little skill is needed to use automated devices has  led some marketing giants to mass market their machine to the neophyte hair transplant surgeon and untrained medical professionals.  Since no automated device or machine can adapt or make critical decisions during an FUE procedure, many hair loss practitioners and veteran patients have expressed concerns that many who undergo surgery with a neophyte surgeon using the ARTAS or any automated hair transplant equipment will eventually come forward with less than satisfactory results.
While the concept of automating the FUE hair transplant procedure is impressive, putting such advanced equipment in novice hands may be disastrous.  However, innovative machines like the ARTAS Hair Restoration System in skilled and experienced hands could significantly aid quality physicians and their staff in providing patients with the best results.
According to Dr. Harris:
I acquired the system because it produces great follicular unit grafts at an efficient rate and it will help leverage my resources.
For physicians who don't relish the thought of learning to manually perform FUE and who are turning away patients, this device may be of some benefit. For doctors already performing FUE but are having trouble integrating it fully into their practice, this device may make it easier.
The data and clinical results are being prepared for publication at this time; at a minimum the performance and results match manual techniques. It may not be for everyone, but it's available for anyone interested.
While the extraction process may very well be automated, extracting healthy grafts is only a fraction of the entire FUE hair transplant procedure.  Thus, such advanced equipment must be accompanied and utilized by an experienced surgeon who is responsible for extracting and properly caring for viable grafts, creating artistic recipient sites to mimic natural hair growth, and carefully placing these fragile grafts into the sites without damaging them.
Given Dr. Harris' dedication to performing state of the art follicular unit extraction (FUE), including the development of the innovative Powered SAFE Scribe, it'll be interesting to obtain his objective feedback on the practical use of this machine after he conducts thorough trials at his clinic.
Bill and Blake (Future_HT_Doc) – Managing Publisher and Editorial Assistant Moderator for the Hair Transplant Network, the Hair Loss Learning Center, the Hair Loss Q&A Blog, and the Hair Restoration Forum
Follow our community on Twitter
Watch hair transplant videos on YouTube
Get Proven Hair Loss Treatments at the Best Prices by visiting our new Online Hair Loss Product Store
Technorati Tags: Hair Transplant Network, hair restoration physicians,  ARTAS Hair Restoration System, hair transplant, Restoration Robotics, follicular unit extraction, FUE, ARTAS, FUE extraction machines, hair transplant, FUE procedure, FUE hair transplant, follicular unit extraction