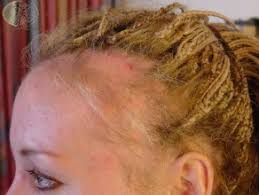 Many women (and some men) like to style their hair by tying their hair back in pony tails and braids.  But what if these glamorous hairstyles cause or exacerbate hair loss?  The truth is, they can.
Some hairstyles such as tight ponytails and braids excessively pull the hair and cause a specific type of hair loss known as Traction Alopecia.
Traction Alopecia is caused predominantly by a pulling force being applied to the hair.  This differs from the hair pulling disorder trichotillomania where men and/or women purposely pull their hair out in various locations of the scalp.
Causes of Traction Alopecia

This type of hair loss generally affects individuals who wear their hair in tight ponytails, pigtails, or braids. Additionally, traction alopecia can be caused by wearing hair extensions and weaves. In some instances, traction alopecia can occur on other parts of the body such as the eye brows, legs, or beard.
How to Prevent Traction Alopecia

Traction Alopecia is preventable and therefore, prevention can be considered the best "treatment".  However, if Traction Alopecia has already begun, there may be things you can do to reverse it.  See the treatment section below.
When wearing a ponytail, wear it loosely instead pulling it tight.   Wearing hair loosely will prevent it from pulling and potentially causing damage to the hair follicle.  Taking periodic breaks from wearing weaves and extensions will also allow the hair sufficient time to grow back, and revert back to normal. Like Male Pattern Baldness, Traction Alopecia is progressive.  If not prevented/treated early, Traction Alopecia hair loss will become permanent.
Treatment for Traction Alopecia

In rare cases Traction Alopecia may be reversed, but a change of hairstyle and treatment would be required immediately.  Rogaine (minoxidil) may also help if Traction Alopecia is in it's beginning stages and the hair follicles underneath the scalp haven't been completely damaged or destroyed.
Unfortunately, most individuals suffering from Traction Alopecia have permanent hair loss and the only real way to restore hair to completely bald areas is to undergo Hair Transplantation. Hair Restoration Surgery is a surgical technique which involves removing hair follicles from the sides and back of the scalp (called the donor site)  and transplanting them into a bald or balding part of the scalp (called the recipient site).  This surgical technique is primarily used to treat Androgenic Alopecia but has been shown to be effective on any part of the scalp or body.
Written by,
Melvin, Editorial Assistant and Forum Co-Moderator for the Hair Transplant Network, the Coalition Hair Loss Learning Center, and the Hair Loss Q & A Blog.
Edited by Bill – Managing Publisher
To share ideas with other hair loss sufferers visit our Hair Restoration Discussion Forum.