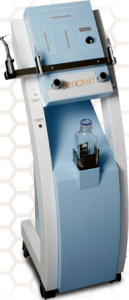 The NeoGraft hair transplant machine, touting itself as "state-of-the-art" and "game-changing" has received a lot of press lately with promises to make follicular unit extraction (FUE), a complex and labor intensive procedure requiring a highly skilled surgeon and staff, simpler, faster and more effective. However, NeoGraft has failed to garner the support of many of the world's expert FUE practitioners (of which there exists only a handful) due to several key concerns.
Consisting of an adjustable, slowly rotating, motorized punch and a pneumatic pressure suction device that allegedly allows each follicular unit to slide in and out smoothly and uniformly, the NeoGraft method of extraction theoretically exerts less force on the grafts than manual extraction. This spinning punch however, while facilitating graft removal, may subject the follicular unit grafts to unnecessary and detrimental torsional forces. In addition, due to the potential for grafts to be wider at one end, there is also a possibility for transection as they are forced through the rotating punch.
Once extracted, the grafts are then sucked through a series of tubes into a collection canister where they are misted to keep them moist while they await implantation. Leading FUE physicians have expressed concerns that the route that the grafts take as they are sucked through the punch and into the collection canister may expose them to further damage. Furthermore, there are concerns that the resulting air flow from the pneumatic pressure may result in rapid desiccation (dehydration) of the extracted follicles. Dehydration of the follicles during surgical hair restoration is one of the primary causes of poor hair growth.
The NeoGraft hair transplant machine offers physicians two options for implanting the follicular unit grafts. They can be auto-loaded into an implantation cannula and then inserted into the recipient site pneumatically using reverse air pressure or, the physician has the option of manually implanting the grafts if he or she so desires. Manual implantation may prevent the delicate follicular unit grafts from exposure to yet another blast of potentially desiccating air pressure.
In addition to the above mentioned mechanical concerns, the NeoGraft machine has been mass marketed to the neophyte hair restoration surgeon as an easy to learn all-purpose device that replaces the need for highly skilled and experienced surgeons and their staff.     Since no automated device or machine can adapt or make critical decisions during the procedure like a skilled and experienced physician, there is a major concern that many patients who undergo this FUE procedure with the NeoGraft will be left with poor results.   Additionally, since the NeoGraft machine costs in excess of $70,000, the cost of FUE with the NeoGraft machine for each patient has actually increased over standard FUE rather than decreased.   While typical FUE procedures range between $6 and $10 per graft, some using the NeoGraft charge as much as $20 per graft.
Only time will tell what effect, if any, NeoGraft will have on the future of surgical hair restoration but, one thing is for certain. Regardless of the tools or device used to perform hair transplant surgery, there is no substitute for a skilled and experienced physician with a proven track record of producing excellent results.
—-
David – aka TakingThePlunge
Assistant Publisher and Forum Co-Moderator for the Hair Transplant Network, the Hair Loss Learning Center, the Hair Loss Q&A Blog, and the Hair Restoration Forum
Follow our community on Twitter
Watch hair transplant videos on YouTube
Technorati Tags: hair transplant, follicular unit extraction, FUE, follicular unit grafts, hair restoration, hair growth