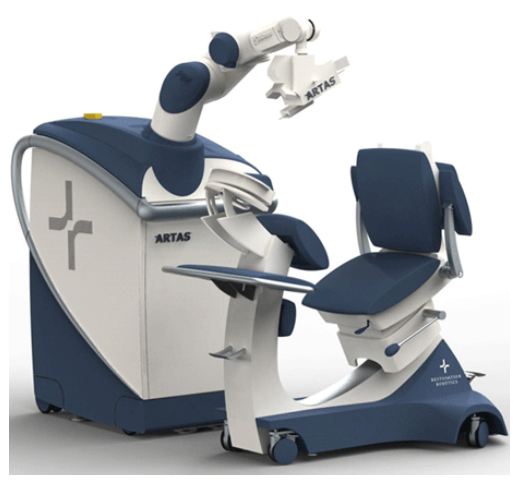 Since receiving FDA approval in 2011 for the harvesting of follicular unit grafts from the scalp, the ARTAS Hair Restoration System has been adopted by some of the world's leading hair transplant surgeons. However, while ARTAS hair transplantation continues to grow in popularity; many misconceptions remain among hair loss sufferers regarding its use and limitations.
What IS ARTAS?
ARTAS is a system combining robotics and digital imaging that allows a skilled and experienced hair transplant surgeon to perform follicular unit extraction (FUE) hair transplants with greater efficiency and accuracy. It employs state of the art imaging technology combined with a computer-controlled robotic arm that can identify and harvest individual follicular unit grafts.
What ARTAS Is Not
Unlke the NeoGraft hair transplant machine, the ARTAS has not been actively marketed to the novice wishing to add surgical hair restoration to their repertoire of services.  Manufacturers of the ARTAS system recognize that their device is not a suitable substitute for a skilled and experienced hair transplant surgeon. Instead, it's simply one of many possible tools with the potential to enhance FUE results. While many have chosen to adopt the machine, many more are producing natural and undetectable results with a variety of other follicular unit extraction tools.
ARTAS is not an implanter but only capable of harvesting. FUE with ARTAS still requires a highly qualified doctor and staff implant the grafts.
Where Can You Learn More?
If you are interested in learning more about the ARTAS robotic hair restoration system, contact one of the several prescreened, quality hair transplant surgeons using this device.
Dr. Robert Bernstein
Dr. Glenn Charles
Dr. Ivan Cohen
Dr. Jerry Cooley
Dr. Herbert Feinberg
Dr. Jim Harris
Dr. Bernard Nusbaum
Dr. Paul Rose
Dr. Paul Shapiro
Dr. Ron Shapiro
Conclusion
The ARTAS system is an exciting and effective tool in the right hands. However, when choosing the hair transplant surgeon that is right for you, it's always best to consider the physicians' results rather than the tool used to achieve those results.
—-
David (TakingThePlunge)
Editorial Assistant and Forum Co-Moderator for the Hair Transplant Network, the Coalition Hair Loss Learning Center, and the Hair Loss Q & A Blog.
To share ideas with other hair loss sufferers visit the hair loss forum and social community
Get Proven Treatments at the Best Prices by visiting our new online hair loss treatment shop.
Technorati Tags: follicular unit, ARTAS, Hair Restoration, hair transplant, hair transplantation, hair loss, follicular unit extraction, FUE, hair transplants, NeoGraft hair transplant machine