This question, asked by a member of our hair loss social community and discussion forums, was answered by Bill – the Managing Publisher of our Hair Restoration Network: 
I've started researching hair transplant surgery and found some interesting information about the NeoGraft. I'm curious, how effective is the NeoGraft procedure? How does it differ from normal hair transplantation?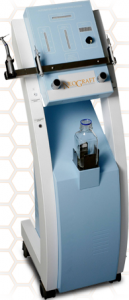 Unfortunately, there's a lot of misinformation available on the NeoGraft which has caused prospective patients some confusion.  For starters, NeoGraft is both a company and one of dozens, if not hundreds of extraction devices a physician can use to harvest follicular units from the back of the scalp.  Thus, "NeoGraft" is not the name of a procedure.  The actual procedure is called follicular unit extraction or FUE.
The NeoGraft hair transplant machine, like other tools, comes with a list of advantages and disadvantages.  Unfortunately, NeoGraft's misleading marketing has led prospective patients like yourself to believe that NeoGraft is an actual procedure and that neophyte surgeons and/or technicians can perform follicular unit extraction hair transplant surgery using their machine with little or even no experience.
The reality is, any tool in the hands of the inexperienced can be dangerous.  If you give a fool a hammer, he'll most likely break his thumb.  However, a skilled and experienced contractor can use a hammer to build a magnificent home.  Thus, the quality of hair transplant results relies much more on the skill and experience of the surgeon and his/her staff than on which tool they use.
To learn more about the NeoGraft, visit the below links:
Can Inexperienced Physicians Perform Quality Follicular Unit Extraction (FUE) with the NeoGraft Device?
The Evolution of Follicular Unit Extraction (FUE), Physicians, and its Tools
Can the NeoGraft Hair Transplant Machine Revolutionize Follicular Unit Extraction?
NeoGraft: A Revolutionary FUE Follicular Unit Extraction Hair Transplant Machine?
__________
Blake – aka Future_HT_Doc
Editorial Assistant and Forum Co-Moderator for the Hair Transplant Network, the Hair Loss Learning
Center, the Hair Loss Q&A Blog, and the Hair Restoration Forum
Follow our community on Twitter
Watch hair transplant videos on YouTube
Technorati Tags: hair loss, Hair Restoration, hair transplant surgery, NeoGraft, hair transplantation, hair transplant