I'm a 30-year old male with a Norwood 4 hair loss pattern. I have been reading conflicting information regarding FUE and FUT. Which one is better?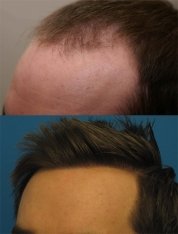 This is a loaded question with several things to consider. For one, what is your family history of hair loss, what are your goals? There is no better technique. Some will argue that Follicular Unit Strip Surgery (FUSS) or strip is a superior technique because the grafts are healthier and grow better. Conversely, others will argue that Follicular Unit Excision (FUE) is a better technique because you can pick and choose the best and healthiest grafts. Both arguments have their merit.
What Are Your Goals with FUE or FUT?
If you tell me that your goal is to have more hair but continue to wear a short haircut, then obviously, going the FUE route is the better option. However, tell me that your goal is getting the most grafts out of your scalp regardless of the technique. I would say going strip first is the better route. Does strip grow better? It was common knowledge ten years ago that strip had better growth. But that has changed over the last decade. World-renowned Elite Coalition surgeon Dr. Ron Shapiro conducted a study where it showed the increase was equal, and in one case, even better with FUE.
How Short Do You Wear Your Hair?
If you like to wear your hair long, there isn't any logical reason to choose FUE over FUT. In most cases, surgeons charge less per graft with strip, as opposed to FUE. Everything else is pretty similar in terms of overall growth and appearance. Now, if you tell me that you wear your hair short, nothing longer than a centimeter. I would say most definitely choose FUE. But remember that FUE is not scarless. You will still see small circular scars if you shave your head. You need a minimal amount of hair length to disguise the tiny scars.
Consult With Hair Transplant Surgeons
The best way to learn what option would be best for you, it's essential to consult with top-notch hair transplant surgeons. You have to discuss your goals, have your donor area checked, and then build a master plan before making an informed decision. You might be a better candidate for FUE because of poor scalp elasticity. You might be a better candidate for FUT because of your goals and degree of hair loss. The bottom line is you won't know until you speak with qualified hair restoration physicians. If you want to learn more and find out which method would best suit you, submit some free virtual consultations to some of the world's best surgeons here.