This frequently asked question comes from a member of our hair loss social community and discussion forums: 
Online, I saw a clinic offering stem cell injections for hair loss. The clinic can either: extract fatty tissue from my stomach, remove the stem cells from the fat, and inject them into my scalp; or remove some donor tissue from my scalp and "multiply" the follicle stem cells and inject them back into the scalp. Are these methods valid? Should I treat my hair loss with stem cell injections?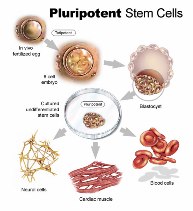 One day, stem cells will likely revolutionize the way we treat a variety of ailments – hair loss included! Unfortunately, we have not yet reached this day.
As of now, any hair loss treatment involving stem cell injections is purely experimental. What's more, these treatments are experimental for a reason; stem cells are powerful, rapidly changing cells, and possess serious adverse effects. Some of the unintended consequences of stem cells include abnormal cell growth, immune system issues, and even cancer. This is one of the many reasons why stem cells must be researched and carefully studied before used as a medical treatment.
This is also why stem cells injections are currently not a recommended hair loss treatment. Opposed to trusted treatments, like minoxidil (Rogaine), finasteride (Propecia), and hair transplant surgery, stem cell injections have not been evaluated and proven safe and effective. Altogether, this leads to one very important conclusion: stem cells injections are not recommended for the treatment of hair loss at this point in time. We may soon see a day where stem cell therapies are safe and even commonplace; however, we have not yet reached this day.
______________
Blake Bloxham – formerly "Future_HT_Doc"
Editorial Assistant and Forum Co-Moderator for the Hair Transplant Network, the Hair Loss Learning
Center, the Hair Loss Q&A Blog, and the Hair Restoration Forum
Follow our community on Twitter
Watch hair transplant videos on YouTube
Technorati Tags: hair loss, stem cell, follicle stem cells, stem cell injections, minoxidil, Rogaine, finasteride, Propecia, hair transplant