This question, from a member of our hair loss forum and social community, was answered by Coalition hair transplant surgeon Dr. Vladimir Panine:
It's about two days after my hair transplant surgery of 3000 grafts. I knew there would be some swelling, but this is insane. I have probably 10% visibility right now at best. Both eyes are almost completely swollen shut. Question is, is this normal? I was assured swelling is normal but these black eyes are starting to scare me. Any help would be appreciated.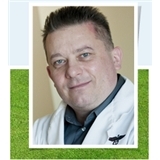 Swelling sometimes happens after hair restoration surgery and is usually resolved by end of the week. We recommend keeping your head above your heart when you sleep, finish taking Medrol doze pack, warm compresses (warm teabags work well).
Swelling is somewhat dependent on how your body mobilizes fluid and can be more or less pronounced but it is transient and will be gone and forgotten by the time we take sutures out.
Dr. Vladimir Panine
—-
David (TakingThePlunge)
Editorial Assistant and Forum Co-Moderator for the Hair Transplant Network, the Coalition Hair Loss Learning Center, and the Hair Loss Q & A Blog.
To share ideas with other hair loss sufferers visit the hair loss forum and social community
Technorati Tags: hair loss, hair transplant, swelling, hair restoration