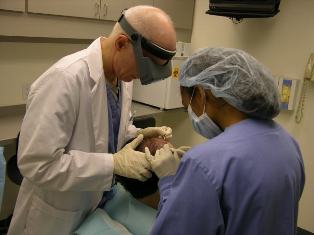 My visit with Dr. Bernstein and his staff September 8th, 2005 –
Dr. Bob Bernstein not only pioneered the concept of follicular unit hair transplantation, including coining the phrase itself, but he has been a tireless advocate for this patient friendly procedure since the mid 1990's.
For years in the face of opposition and nay saying he debated and presented the logical advantages of follicular unit grafting versus large grafting in well written and articulated articles and presentations.
His advocacy, papers and articles were highly influential in advancing the art and science of follicular unit grafting. Many of these papers are available to both physicians and patients on his excellent in-depth website at Bernstein Medical.com.
In recognition of his many scientific contributions and outstanding patient care he was awarded the prestigious "Platinum Follicle" award by the International Society of Hair Restoration Surgery (ISHRS).
Today Dr. Bernstein truly practices what he preaches. He and his staff have been using microscopes since the mid 1990's to carefully prepare all follicular unit grafts. He has also continued to perfect and master follicular unit grafting and now performs ultra refined follicular unit hair transplantation.
Today Dr. Bernstein uses very tiny instruments to create carefully oriented lateral incisions that maximize a both the naturalness and appearance of fullness that a patient can achieve from a given session. He and his staff take great care to assure that virtually all of the follicle removed from the donor area are not only transplanted but that they grow.
And while his large and experienced staff of technicians could provide huge 4,000 or 5,000 plus hair transplant sessions Dr. Bernstein believes in limiting sessions to under 3,500 grafts to assure maximum growth of all transplanted follicles, while limiting any potential donor scarring by not over taxing the donor area during a given surgical session.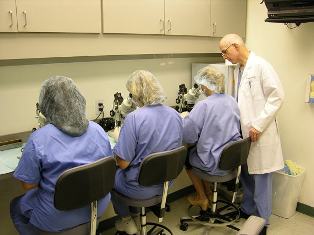 Dr. Bernstein's attention to detail and his commitment to providing his patients with the very best treatments that will maximize their LONG TERM benefits are well known by those who know him and his work.
Dr. Bernstein is well known for often discouraging patients from doing hair transplantation when he feels that such a procedure is not appropriate for them. Over the years I have often heard people online accuse him of being too "conservative" or "cautious". In my opinion, when the long term interest of the patient is considered, his assessments are normally right on.
I admire his willingness to turn away revenue to do right by his patients. This quality is all too rare in many clinics.
I also appreciate that Dr. Bernstein does not pander to the sensationalism that so often sweeps across the Web. Instead he provides treatments which he thinks are in the long term best interest of his patients, despite many patients who desire the instant gratification of huge hair transplant sessions, which risk over taxing both their donor areas and their scalps. While his large and experienced staff certainly could provide sessions of 4,000 to 5,000 grafts he does not provide them because of his belief that such huge sessions compromise a patient's long term potential for restoring the optimal amount of hair in the patient's balding areas.
I have admired and respected Dr. Bernstein's patient care and philosophy for years. This respect and admiration has only grown after seeing him and his crack staff in action.
I think he has outstanding technical and artistic judgment and is a man of real integrity and honestly. I'm honored to have him as a supporter of our community and as an outstanding member of the Coalition of Independent Hair Restoration Physicians. Dr. Bernstein's ethics, commitment to the very best techniques and optimal long term patient results set the bench mark for all Coalition members.
View more photos of this visit to Bernstein Medical.

View more visits to leading hair restoration clinics.
Pat Hennessey,
Technorati Tags: follicular unit, Hair Restoration, hair transplant, hair transplantation