Do hair growth medications like Propecia and Rogaine affect the transplanted hair or the original hair?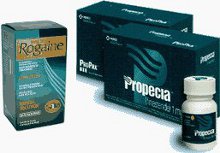 You don't need hair loss drugs like Propecia (finasteride) and Rogaine (minoxidil) in order to maintain the growth of transplanted hair. These follicles come from the "permanent" donor region at the sides and back of the head and, in the majority of cases, will grow for a lifetime.
However, these drugs can help prolong the effect of quality hair transplant surgery and postpone the need for a second or third procedure by preserving existing (non-transplanted) hair and even regrowing hair in the balding area that is susceptible to the effects of androgenic alopecia (genetic hair loss).
If existing hair is not medically stabilized, baldness will likely continue to progress, requiring future hair restoration surgeries to fill in the areas of thinning hair.
—-
David (TakingThePlunge)
Editorial Assistant and Forum Co-Moderator for the Hair Transplant Network, the Coalition Hair Loss Learning Center, and the Hair Loss Q & A Blog.
To share ideas with other hair loss sufferers visit the hair loss forum and social community
Technorati Tags: hair growth, Propecia, Rogaine, finasteride, minoxidil, hair transplant, balding area, androgenic alopecia, hair loss, baldness, hair restoration, thinning hair