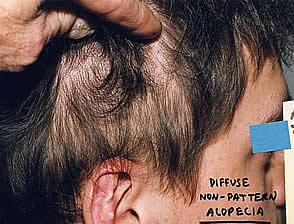 Most hair loss is the result of androgenic alopecia, also known as pattern baldness. However, there are other forms of alopecia that affect both men and women with thinning hair. One of these is known as diffuse unpatterned alopecia or DUPA.
DUPA is characterized by diffuse balding throughout the entire scalp with no stable permanent zone. It affects both men and women but is about 10 times more common in females. To learn more about DUPA, its diagnosis and treatment options, see the article, "Diffuse Unpatterned Alopecia (DUPA) Causes and Treatment" at the Hair Loss Learning Center.
To learn more about other forms of alopecia, click here.
—-
David (TakingThePlunge)
Editorial Assistant and Forum Co-Moderator for the Hair Transplant Network, the Coalition Hair Loss Learning Center, and the Hair Loss Q & A Blog.
To share ideas with other hair loss sufferers visit the hair loss forum and social community
Technorati Tags: hair loss, androgenic alopecia, baldness, thinning hair, diffuse unpatterned alopecia, DUPA, balding