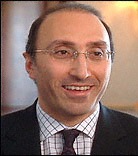 Recently, Coalition member and highly acclaimed hair restoration surgeon Dr. Bessam Farjo of Manchester, United Kingdom was interviewed by the Times of India for a lifestyle article about hair loss.  Topics discussed include advancements made in hair loss research, state of the art hair transplant surgery and hair multiplication (cloning). In the article, Dr. Farjo discusses why he chose to specialize in hair restoration and his role in shaping its future through the ongoing research and development of new techniques.
Dr. Bessam Farjo has a long history of performing state of the art, ultra-refined follicular unit hair transplantation with outstanding results. Along with his wife and colleague, Dr. Nilofer Farjo, he founded the Farjo Medical Centre in 1992. Since that time, the Farjo Clinic has become the UK's premier center for surgical hair restoration, medical hair loss treatment and research.
Dr. Bessam and Nilofer Farjo are both highly esteemed members of the Coalition of Independent Hair Restoration Physicians and recommended by the Hair Transplant Network. To learn about our criteria for recommending physicians, click here.
Click the image below to see the full article.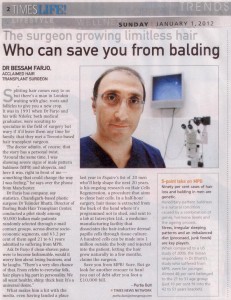 —-
David (TakingThePlunge)
Forum Co-Moderator and Editorial Assistant for the Hair Transplant Network, the Coalition Hair Loss Learning Center, and the Hair Loss Q & A Blog.
To share ideas with other hair loss sufferers visit the Hair Restoration Social Network and Enhanced Discussion Forum
Get Proven Treatments at the Best Prices by visiting our new Online Hair Loss Treatment Shop.
Follow us on: Facebook | Twitter | YouTube
Technorati Tags: hair restoration, Dr. Bessam Farjo, hair loss, hair transplant, hair multiplication, follicular unit, hair transplantation, Dr. Nilofer Farjo, hair loss treatment, Coalition of Independent Hair Restoration Physicians, Hair Transplant Network