I'm a 30 year old male that is interested in having a hair transplant, during my research I have found that FUT is cheaper in my area. I wonder why? Since it seems that technicians perform most of the procedure for FUE what's the difference between both techniques?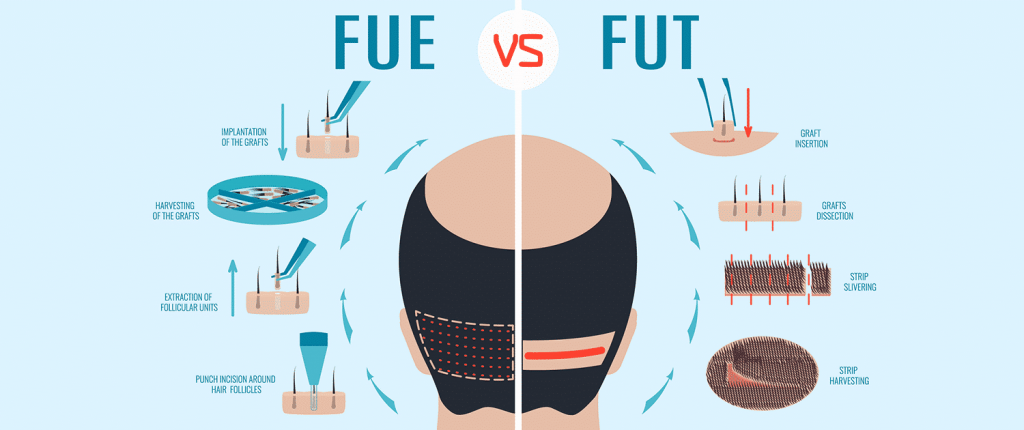 The cost of a hair transplant depends on several factors, including the location of the procedure. Follicular Unit Strip Surgery (FUSS) or strip surgery is less labor-intensive and more efficient. A large strip of tissue can be excised, dissected, and implanted in a shorter period, as opposed to Follicular Unit Excision (FUE).
Difference Between FUE and FUT
The harvesting technique is the only difference between FUE and FUT. The implantation method is the same for both procedures. Hair follicles are extracted one-by-one via a manual, motorized, or robotic punch with FUE. FUE punches range from 0.7mm to 1mm in circumference.
FUE creates tiny 'dot' micro-scars in the back and sides of the scalp known as the 'donor' site. The scars are difficult to detect, even under close inspection- this is why the procedure has become so popular.
Follicular unit grafts are harvested differently with FUT. A surgeon removes a strip of hair-bearing tissue from ear to ear on the back of the scalp. The incision site is then sutured and closed. The procedure will yield a linear scar in the donor site. In rare instances, the incision may stretch and become unsightly, but with a right surgeon, that is rare.
Price Differences Between FUE and FUT
The cost varies depending on location. In the United States, hair transplant surgeons charge per graft. The cost can range between $4-12 per graft, depending on the surgeon and technique. For the most part, FUE is more expensive, ranging from $6-12 per graft.
FUT ranges from $4-7 per graft; it's cheaper because it is less labor-intensive. In the United States, it is illegal for a technician to extract grafts, which is the reason why FUE is more expensive in the U.S.
In other parts of the world, FUE and FUT are similar in price. Technicians are allowed to extract and implant grafts, significantly reducing the amount of labor of the surgeon, and therefore, reducing the cost.