Coalition hair transplant surgeon Dr. Jerry Cooley is known for his innovative nature and dedication to state-of-the-art hair restoration. Recently, Dr. Cooley turned his attention to the budding field of robotic assisted follicular unit extraction (FUE) and began researching the new ARTAS FUE device. After investigating the system, Dr. Cooley concluded that the ARTAS was effective and decided to integrate the device into his practice.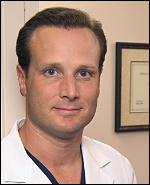 After learning about Dr. Cooley's acquisition of the ARTAS system, we interviewed him for his input on the device.  Below, Dr. Cooley provides his expert advice and how he plans to integrate the ARTAS into his state of the art hair transplantation practice.
Why did you purchase the ARTAS device? 
I have been doing FUE hair transplant procedures in my practice for about 10 years, but up until a year ago, it represented only a tiny fraction of my procedures.  Over the past year, I have found myself doing more and more FUE and I see that trend continuing.  While I continue to be a big proponent of strip harvesting, I also see a growing portion of my patients who are good candidates for FUE.  For example, young men who wear their hair very short, many of whom work out a good deal and may be very worried about the chance of having a noticeable linear scar, or patients who have had prior strip surgeries and have little to no scalp laxity left in their scalps.  Most patients who come to see me are still great candidates for strip surgery – e.g. men who have decent scalp laxity and wear their hair medium length, and all women.  I see strip and FUE procedures peacefully coexisting in my practice over the next 10 years.
I have tried various FUE devices but none of them felt quite right for me.  While I had been watching the development of the ARTAS system over the past several years, it wasn't until I met with representatives from Restoration Robotics and took a closer look at their system that I became serious.  I have been impressed with their commitment to engineering a device centered on quality (i.e. viable grafts) and targeting their device to experienced, top notch hair restoration surgeons.  The fact that the financial viability of Restoration Robotics depends on surgeons continuing to use the device means they have a stake in making sure each surgeon is successfully using it in their practice.  I watched Dr. James Harris perform an ARTAS procedure and had a long discussion with Dr. Robert Bernstein; after that, I was ready to jump in.
Finally, I should mention that my decision to start performing large session FUE is based on some of my research interests.  I have been working with ACell MatriStem in my practice for the past three and a half years.  For FUE donor healing, I have found that it promotes soft tissue healing and hair follicle regeneration.  One my concerns over using FUE to harvest several thousand grafts was the potential for widespread punctate fibrosis through the donor area, something I have seen in FUE patients from other clinics in the past.  With ACell, this concern has largely been addressed.  Furthermore, I have developed a holding solution which keeps grafts viable outside the body for several days.  This allows us to do large FUE harvesting session on one day, and graft implantation the next day, without loss of graft viability.  It seems that all of these things have been coming together in my practice around the same time.
What do you like about the ARTAS device? 
I like that the ARTAS makes use of the dull punch system developed by recommended hair transplant surgeon Dr. James Harris. I like how the system depends on our ongoing feedback to control angle and direction, giving us control over what is happening.  I like how the skin tension device works, stretching the skin to facilitate FUE, and breaks up the donor area into manageable boxes.  I like how everything is computerized, mapped, imaged, and stored.
What do you dislike about the ARTAS? 
We're still getting used to having patients sit in a chair for the harvesting.  In the past, we typically did FUE with patients laying on down on the surgical table.  Also, of all the ARTAS cases we've done so far, we haven't been quick at it but I'm sure that our pace will pick up as we do more cases.
How do you feel about inexperienced ("neophyte") or non-hair transplant surgeons using the machine? 
This has me very concerned.  My experience with the ARTAS system has been overwhelmingly positive, but I cannot imagine trying to operate the device without all my years of FUE experience.  Furthermore, even if the neophyte were able to extract high quality grafts consistently, that represents only the graft harvesting part of the entire hair restoration treatment plan.  This plan spans everything from the consultation where graft needs are assessed, medications are prescribed, realistic expectations are set to the aesthetics of hairline design/graft distribution and site creation/graft implantation.  Acquiring an automated FUE device does not make one an expert in all these areas.  And delegating these to technicians who do not have a license to practice medicine raises serious legal and ethical issues.  Ultimately, the ARTAS is a device, and nothing more.  It is the physician and his or her staff that will determine the success of the procedure and whether the patient is satisfied with the outcome.
Interested in discussing the prospect of ARTAS FUE with Dr. Cooley further? If so, feel free to visit his Coalition profile and schedule a consultation. Again, we thank Dr. Cooley and wish him the best of luck with the new ARTAS device.
________________
Blake  – aka Future_HT_Doc
Editorial Assistant and Forum Co-Moderator for the Hair Transplant Network, the Hair Loss Learning Center, the Hair Loss Q&A Blog, and the Hair Restoration Forum
Follow our community on Twitter
Watch hair transplant videos on YouTube
Technorati Tags: hair transplant surgeon, Dr. Jerry Cooley, hair restoration, robotic assisted follicular unit extraction, FUE, ARTAS FUE, ARTAS, ARTAS system, hair transplantation, FUE hair transplant, Restoration Robotics, hair restoration surgeons, hair transplant surgeons