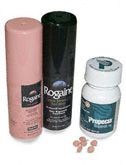 Many people who think of "hair loss" typically conjure an image of the dreaded "horseshoe" pattern of genetic balding that many men develop. However, while balding is typically seen as a male affliction, it also affects an estimated 30 million women in the United States alone and may also be caused by a variety of non-genetic factors.
There are many types of hair loss; the most common of which in both men and women is androgenic alopecia.  This progressive balding condition is a result of genetics and the hormone DHT (dihydrotestosterone) which binds with the receptor sites of vulnerable hair follicles causing them to miniaturize and fall out over time. Currently, the most effective medical hair loss treatment for men with genetic balding is a combination of Propecia (finasteride) and Rogaine (minoxidil). Propecia has been shown to slow the conversion of testosterone to DHT and can be helpful in slowing, stopping or in some cases, reversing hair loss when it is used early enough. The mechanisms behind Rogaine's effect on hair loss are not fully understood but it is thought to increase blood supply to the hair follicles through dilation of the blood vessels. It is important to note that Propecia is not approved for use by females and should not be taken or even handled by women of child-bearing age.   For those who can't or don't want to use Propecia, there are credible alternative treatments for hair loss worth exploring.   You are encouraged to visit our online discounted hair loss product shop for a list of products we recommend.
But not everyone who experiences hair loss does so as a result of their genetic makeup.   Hair loss sufferers (especially women) are strongly encouraged to undergo a full medical evaluation by a dermatologist, trichologist or [tag}hair restoration[tag] professional in order to rule out other possible causes.   Below we've listed some of the non-genetic causes of hair loss and possible treatments.
Disease and other conditions: Lupus, diabetes, PCOS (Polycystic Ovarian Syndrome), menopause, hormonal changes in the body (such as childbirth), low iron levels, thyroid conditions, some forms of cancer, etc. can all lead to hair loss. Balding resulting from disease may be temporary or permanent and treatments will vary.
Improper hair care: While normal daily styling should not result in hair loss, overuse or misuse of chemicals like dyes, bleaches or straighteners can damage hair. Certain hairstyles like dreadlocks, cornrows or wearing extensions can place strain on the hair and scalp resulting in traction alopecia.
Poor nutrition: Rapid weight loss due to crash dieting or eating disorders can lead to poor nutrition resulting in hair loss.
Medication: Some birth control pills, blood pressure medication, etc. can cause hair loss.   Be sure to speak to your physician about any medication you are taking and the potential side effects.
Stress:  Stress can be harmful to the entire body and can result in a type of hair loss known as telogen effluvium. Telogen effluvium is caused when the body senses a problem and diverts its energies there. This results in hair being shed. Eliminating the stressor often reverses this condition resulting in hair regrowth.
Trichotillomania: Trichotillomania is an impulse control disorder which compels a person to pull out their own hair. This hair pulling is not limited to the scalp but may include eyebrows or other areas of the body. Hair pulling from the scalp often leaves victims with patchy bald spots on the head. Medically treating a trichotillomania patient's baldness may be done simultaneously or after proper treatment of the disorder.   To read more about trichotillomania, view the professional article by hair restoration physician Dr. Parsa Mohebi, "Effective Treatment for Trichotillomania Hair Loss – A Hair Pulling Disorder".
Prior to beginning any medical hair loss treatment or seeking hair restoration surgery, it is crucial for a patient to understand the cause of his or her balding. The best way to do this is to consult with a dermatologist specializing in hair loss. Your physician will help you understand your treatment options. In addition to medical and surgical treatments, both men and women may also benefit from using concealers such as Toppik or DermMatch, or even may even consider today's hair replacement systems.
—-
David – aka TakingThePlunge
Assistant Publisher and Forum Co-Moderator for the Hair Transplant Network, the Hair Loss Learning Center, the Hair Loss Q&A Blog, and the Hair Restoration Forum
Get Proven Hair Loss Treatments at the Best Prices by visiting our new Online Hair Loss Product Store
Technorati Tags: hair loss, genetic balding, balding, androgenic alopecia, DHT, dihydrotestosterone, hair loss treatment, Propecia, finasteride, Rogaine (minoxidil, traction alopecia, telogen effluvium, hair regrowth, Trichotillomania, bald, baldness, concealers, Toppik, DermMatch, hair replacement systems