I'm a 27-year-old male, and I have been suffering from hair loss since I was 18. Initially, I wanted to get SMP and have a clean-shaved appearance, but I was wondering if you could combine a hair transplant and SMP for better results?
SMP, which stands for scalp micro-pigmentation, is becoming more popular in the field of hair restoration. Initially, SMP was used to help camouflage donor scars. Still, more recently, it's been used on the top of the scalp to give patients the appearance of a fuller head of hair.
Can SMP Be Combined With A Hair Transplant?
Yes, you can combine SMP with an FUE hair transplant procedure. We have found that this works with patients who do not have enough donor hair to achieve their desired appearance. I tell my patients to undergo hair restoration first. Hair transplant results take twelve to eighteen months to fully manifest.
At which point, we evaluate the donor area for further harvesting. If there are no grafts left, we will consider SMP an option. Once the patient has reached their final growth stage, we will perform SMP. Generally, there are only one to two weeks between SMP sessions. Most patients require three to four sessions to achieve their desired appearance.
Touch-Ups May Be Required
Patients will periodically need touch-ups, as the ink does fade with sun exposure and sweat. Moreover, the ink we use is organic, and the ink is naturally broken down through the body. Active patients may need touch-ups every two years, some even sooner.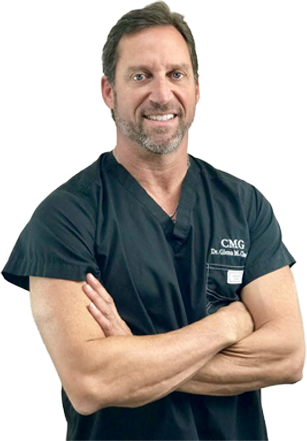 Written by,
Dr. Glenn Charles – Member of the Coalition of Independent Hair Restoration Physicians and recommended on the Hair Transplant Network