This question comes from a member of our hair loss social community and discussion forums:
I'm considering Follicular Unit Extraction (FUE), but I'm concerned that the harvesting process may cause thinning in my donor region. Does FUE cause donor region thinning? Can it create a "moth eaten" appearance?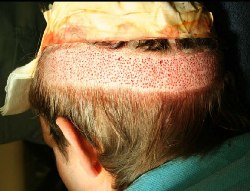 Most hair transplant surgeons believe donor thinning isn't apparent until approximately 50% of the available follicular units have been harvested. Because these same doctors do not want to create noticeable thinning in the universal donor region, they will not harvest more than 50% of the available grafts.
What's more, I think the transition to smaller diameter FUE punch tools has decreased the incidence of the "moth eaten" post-FUE appearance. Small diameter tools create less circular scarring and reduce the thinning appearance in the harvest site.  Reputable FUE surgeons should be able to assess donor density and use these modern punch tools to avoid thinning in the donor region during Follicular Unit Extraction procedures.
____________
Blake – aka Future_HT_Doc
Editorial Assistant and Forum Co-Moderator for the Hair Transplant Network, the Hair Loss Learning
Center, the Hair Loss Q&A Blog, and the Hair Restoration Forum
Follow our community on Twitter
Watch hair transplant videos on YouTube
Technorati Tags: hair loss, Follicular Unit Extraction, FUE, hair transplant