I'm interested in getting a hair transplant later this year, but I am a very analytical person that likes data. I cannot find any information online on the actual success rate of hair transplants, is it 50%, 60%, 80%? What's the percentage and where I can find this information?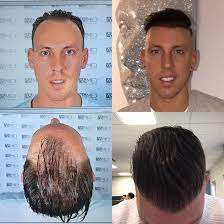 Unfortunately, there is no empirical data provided online, as the success rate is somewhat subjective. The success of the hair transplant result depends on your perception. How do you measure success? Some may count it by feeling better and more confident, others may measure it by density, and others may measure the success by the naturalness.
How Do You Measure Success?
Unfortunately, there is no database where surgeons enter the satisfaction rate of their patients, but that would make for an excellent idea for an app. The closest thing you have to look at the satisfaction of actual patients is looking up reviews on the Hair Restoration Network. The Hair Restoration Network is a hair loss forum that has existed for over 15 years. The platform has thousands of reviews from actual patients. You can see the good, bad, and even the ugly. Furthermore, you can send other patients private messages to get their unbiased opinions on experiences.
No One Can Guarantee Satisfaction
The fact of the matter is that no one can guarantee your satisfaction. Even if your surgeon executes your hair transplant perfectly, there is no guarantee that you'll be happy. Anyone who gives you a guarantee of success is lying. There is a yearly census by the International Society of Hair Restoration Surgeons (ISHRS). The census includes the number of annual procedures, the male to female ratio, and the most popular age bracket to receive a hair transplant. Surprisingly, almost 90% of the people getting hair transplants are between 26-45 years of age.
That said, there is a section of the census that indicates the most common complaints. Low density is the most common complaint at 28.1%. The other top complaint is post-op graft shedding, which shows that many people undergo hair transplants without knowing what to expect or the process. It would help if you learned the basics before you get a hair transplant.
Conclusion
It's challenging to find out the success rate of hair transplants because of the subjective nature of cosmetic procedures. However, even if the success rate is 99%, there is no guarantee you won't be part of the 1%. Knowing and accepting this as a reality is vital before getting a hair transplant. Having realistic expectations will determine the success rate. Surgeon selection is crucial. Do not choose a doctor based on cost; focus on results. If you want to speak to a top-notch surgeon who can discuss your goals and build a master plan with you, click here to submit a virtual consultation.