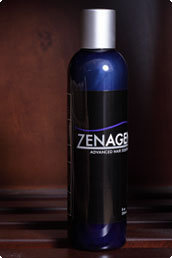 Dozens of alleged treatments for female and male pattern baldness are manufactured and advertised every year. The question is – do any of these products actually work to stop hair loss or regrow lost hair?
Zenagen advanced hair solution is a shampoo that claims to block DHT (dihydrotestosterone), reduce hair shedding, and speed up hair growth all for approximately $17 per month. But is there any clinical evidence to suggest this shampoo is a successful solution for hair loss?
Recently, new forum member "Grany" who claims to be a physician asked the members of our community for feedback on Zenagen shampoo. You are encouraged to offer your input and/or experience with Zenagen on our hair restoration forum.
Bill Seemiller
Managing Publisher
Follow our community on Twitter
Watch hair transplant videos  on YouTube
Technorati Tags: male pattern baldness, hair loss, Zenagen, hair solution, DHT, dihydrotestosterone, hair shedding, hair growth, Zenagen shampoo, hair restoration, Bill Seemiller