This question comes from a member of our hair loss social community and discussion forums: 
I'm currently using minoxidil (Rogaine) with another topical hair loss solution, and I'm wondering if using these two together will make the minoxidil less effective?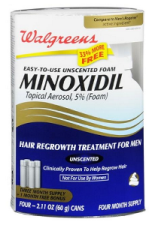 Minoxidil (Rogaine) is one of only two FDA approved preventive hair loss medications available today. Because of this, most physicians recommend it to patients suffering from alopecia. However, many patients chose to augment proven hair loss medication regimens (minoxidil and/or finasteride/Propecia) with other therapies; particularly topical therapies.
In general, most topical therapies should not interfere with minoxidil's effectiveness. However, there is one important exception to understand: in order to work, minoxidil must be absorbed across the scalp; if another treatment is covering the scalp, it may prevent the minoxidil from absorbing. If this occurs, the decreased absorption will make the minoxidil less effective. Because of this, hair loss experts usually instruct patients to apply minoxidil to the scalp first, allow some time for the treatment to dry and absorb, and then add any secondary topical therapies afterward. By doing this, the minoxidil will absorb effectively and will not be affected by the other topical treatments.
_______
Blake Bloxham – formerly "Future_HT_Doc"
Editorial Assistant and Forum Co-Moderator for the Hair Transplant Network, the Hair Loss Learning
Center, the Hair Loss Q&A Blog, and the Hair Restoration Forum
Follow our community on Twitter
Watch hair transplant videos on YouTube
Technorati Tags: hair loss, minoxidil, Rogaine, hair loss medications, finasteride, Propecia