This question comes from a discouraged member of our Hair Loss Social Community and Discussion Forums:
Four years ago, I underwent my first hair transplant procedure and was told by the surgeon that a revolutionary hair loss cure would be available within the next year. After years of hearing the next big "breakthrough" is right around the corner and reading countless articles published on new "stem cell" treatments that never seem to materialize, I wonder if a true hair loss medical breakthrough will ever happen in my lifetime?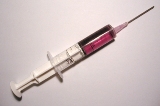 We've come to a point in society where the breakthroughs in medicine, bio-engineering, and research are astonishing. However, for every breakthrough that achieves a 10 minute spot on a local news station or a mention on the CNN homepage there are literally decades of behind the scenes research, trials, theorizing, and sacrifice that's never mentioned or observed.
Genetics, the human body, engineered compounds, etc, are extremely complex entities, and progressing from understanding a condition to isolating its source, to theorizing a cure, and finally to creating a therapy is a huge ordeal. Some of the greatest minds of our times have spent lifetimes studying and conducting very specific types of research and still never achieved their goals. What I'm trying to say is that these breakthroughs are real and do happen, but it takes an immense amount of talent, dedication, time, and money.
However, we've definitely reached an exciting point in biochemical/medical research and I do believe regenerative medicine ("stem cells," etc) will start demonstrating some impressive therapies for conditions like baldness. Additionally, I don't think these findings will come from hair restoration physicians (though they are excellent practitioners and great at current methods of hair restoration) but from Ph.D.s researching in large universities.
I definitely think big therapies are coming, but I do think it will take a significant amount of time and that it's always advantageous to seek proven, relevant treatments (like minoxidil/Rogaine and finasteride/Propecia)  in the present while waiting for the "hair loss cures" of tomorrow.
_______________
Blake Bloxham – formerly "Future_HT_Doc"
Editorial Assistant and Forum Co-Moderator for the Hair Transplant Network, the Hair Loss Learning Center, the Hair Loss Q&A Blog, and the Hair Restoration Forum
Follow our community on Twitter
Watch hair transplant videos on YouTube
Get Proven Hair Loss Treatments at the Best Prices by visiting our new Online Hair Loss Product Store
Technorati Tags: Hair Loss, hair transplant, hair loss cure, stem cell" treatments, hair loss medical breakthrough, baldness, hair restoration physicians, hair restoration, minoxidil, Rogaine, finasteride, Propecia, hair loss cures