I am a woman on Men's Rogaine (5% minoxidil). I have been using it for one month and have noticed after two weeks the hair shedding was more than when I initially started and is still continuing. Can I lower the dose to the Women's Rogaine (2% minoxidil) or will that affect the hair growth process?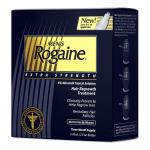 It's normal to see increased shedding shortly after starting Rogaine. The shedding should stop after about two months and you should see new hair growth at around 4 months. We recommend that hair loss sufferers continue to apply Rogaine as directed for between 6 and 12 months before assessing their results.
You can lower the dosage if you like but Men's Rogaine is typically about twice as effective as the women's formula.
—-
Technorati Tags: Rogaine, minoxidil, hair growth, hair loss