This question comes from a member of our hair loss social community and discussion forums: 
Lately, I feel as if I've been losing hair from my temple region, and I'm wondering whether or not Rogaine (minoxidil) will help stabilize the thinning and restore hair in this area?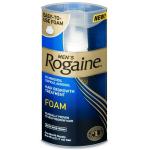 Frankly, there seems to be various theories and opinions as to whether or not Rogaine (minoxidil) restores hair to frontal scalp regions like the hairline and temples.
Some hair restoration experts state that there is no physiological reason why all scalp hair shouldn't respond the same way to minoxidil. Furthermore, these same individuals reference the fact that Rogaine/minoxidil is FDA approved for hair loss specifically in the vertex and mid-scalp areas because this was the region tested in the clinical trials; not because it couldn't be effective elsewhere.
Additionally, numerous hair loss sufferers have utilized Rogaine/minoxidil in the temple region with varying levels of success. Some individuals claim they saw significant stabilization and restoration in the temple regions, while others received little to no benefit from utilizing minoxidil on their temples.
However, others seem to believe that the hair follicles in the temple region are simply less receptive to minoxidil and its mode of pharmaceutical action.
Altogether, it's likely that minoxidil can provide some benefit to those looking to restore hair in the temple regions. Similar to scalp usage, some individuals are likely to respond better to the treatment than others, and specific physiology will definitely play an important role. However, a well researched regimen of proven, preventive hair loss medications, including minoxidil, is likely to have some benefit in the temple region.
_______________
Blake Bloxham – formerly "Future_HT_Doc"
Editorial Assistant and Forum Co-Moderator for the Hair Transplant Network, the Hair Loss Learning Center, the Hair Loss Q&A Blog, and the Hair Restoration Forum
Follow our community on Twitter
Watch hair transplant videos on YouTube
Get Proven Hair Loss Treatments at the Best Prices by visiting our new Online Hair Loss Product Store
Technorati Tags: hair loss, temple region, Rogaine, minoxidil, hair restoration, hair loss sufferers, hair follicles, hair loss medications