This question comes from a member of our Hair Loss Discussion Forums and Social Community:
I'm looking to undergo a second follicular unit transplantation (FUT) procedure, and I'm wondering if this will result in two strip scars in the back of my scalp (one from each procedure)? Is there any way to avoid this?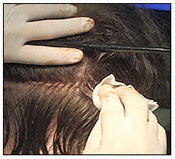 No, you would only have one scar, even after two hair transplant procedures.
In general, the area in which a strip of follicular unit grafts can be safely harvested (the universal extraction zone) is fairly limited, and the second strip would be taken from essentially the same area as the first.
Because of this, it means that your original strip scar would be removed with the additional (surrounding) tissue containing the follicular unit grafts (that will be used in the second procedure), and a new closure would be applied in its place (meaning whatever sort of scarring occurs here will be the only strip scar on the back of the scalp).
_______________
Blake Bloxham – formerly "Future_HT_Doc"
Editorial Assistant and Forum Co-Moderator for the Hair Transplant Network, the Hair Loss Learning Center, the Hair Loss Q&A Blog, and the Hair Restoration Forum
Follow our community on Twitter
Watch hair transplant videos on YouTube
Get Proven Hair Loss Treatments at the Best Prices by visiting our new Online Hair Loss Product Store
Technorati Tags: Hair Loss, follicular unit transplantation, FUT, strip scar, hair transplant, follicular unit graft