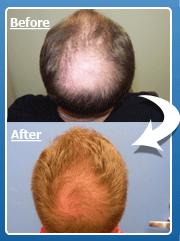 While many men would rather not experience hair loss at all; those that do, experience many degrees of baldness. While some hair loss sufferers lose hair only at the front, others lose it in the crown while others lose it all over the top.
While restoring a natural looking hairline and frontal core is standard in surgical hair restoration, the bald or thinning  crown is often considered the "black hole" for grafts. Thus, patients need to decide how much hair (if any) they want to designate for the crown as they discuss their hair restoration goals with their physician.
Recently, forum member "Mike the Dane" who's already had a couple of hair transplants posted a thread with photos asking for input from our community as to whether or not he should start to focus on his balding crown. To offer your advice and/or share your experience, visit "To Crown or Not To Crown".
Bill Seemiller
Associate Publisher/Editor
Technorati Tags: hair loss, baldness, hair restoration, bald, hair transplants, balding