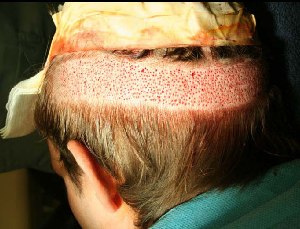 Of all the recent advances within the field of medical hair restoration, one that seems to garner the most attention from both hair loss patients and hair transplant surgeons is follicular unit extraction (FUE). Thus, it's no surprise that this popular procedure garnered a lot more attention and discussion at this year's 2011 ISHRS scientific meeting. View the "Highlights of the 2011 ISHRS (International Society of Hair Restoration Surgery) Scientific Meeting in Anchorage, Alaska" for what leading physicians are saying about FUE and other hot topic hair loss related issues.
But why is follicular unit extraction hair transplant surgery so popular? Will state of the art FUE hair transplants ever replace today's "gold standard" follicular unit transplantation (FUT) procedures? Or can follicular unit extraction (FUE) and FUT hair transplant surgery peacefully co-exist?
Whether it's the less invasive nature, lack of the linear scar associated with the traditional follicular unit hair transplant (FUT) procedure, or potentially faster healing time, demand and popularity of FUE has increased greatly over the last several years. While most hair restoration experts believe that FUE has been traditionally overhyped or oversold to eager patients, it's become evident that FUE is here to stay.
The lasting power of follicular unit extraction seems to stem from both patient demand and the dedication of talented hair restoration experts who continue perfecting the procedure, researching new extraction mechanisms, and creating new, more precise FUE tools. By evaluating these dedicated physicians, refined methods, and unique follicular unit extraction devices, we invite you to learn more about "The Evolution of Follicular Unit Extraction (FUE), Physicians and its Tools" and why the procedure continues increasing in popularity and demand each day.
To discuss the evolution of FUE with other hair loss sufferers and leading hair restoration physicians, visit the recent popular discussion forum topics Hair Transplants: FUE Versus FUT and Strip or FUE for Future Possibly High Norwood.
—-
David (TakingThePlunge) Forum Co-Moderator and Editorial Assistant for the Hair Restoration Forum and Social Network, the Coalition Hair Loss Learning Center, and the Hair Loss Q&A Blog.
Get Proven Hair Loss Treatments at the Best Prices by visiting our new Online Hair Loss Product Store
Technorati Tags: hair restoration, hair loss, hair transplant, follicular unit extraction, FUE, ISHRS, International Society of Hair Restoration Surgery, hair transplants, follicular unit transplantation, FUT