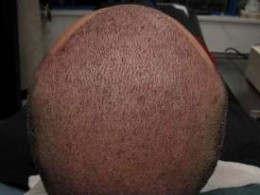 Statistically, 25% of men will experience genetic hair loss by the age of 30 and as many as 50% by the age of 50.  Some of these men will accept their balding and allow nature to take its course, while others will choose to use popular hair loss treatments to try and slow the progress of androgenic alopecia (male pattern baldness) and regrow hair.
Not long ago, the only effective way to restore hair to a bald scalp was to cover it with a wig, toupee or hair replacement system. Today, men suffering from thinning hair can choose to use the clinically proven and FDA approved medical hair growth treatments Rogaine (minoxidil) and Propecia (finasteride) or (for those that are candidates) state of the art ultra refined follicular unit hair transplant surgery.
To learn if hair transplants are for you, read the article, Top 5 Reasons Men Choose Hair Transplant Surgery
—-
David (TakingThePlunge)
Editorial Assistant and Forum Co-Moderator for the Hair Transplant Network, the Coalition Hair Loss Learning Center, and the Hair Loss Q & A Blog.
To share ideas with other hair loss sufferers visit the hair loss forum and social community
Get Proven Treatments at the Best Prices by visiting our new online hair loss treatment shop.
Watch hair transplant videos on YouTube
Follow us on: Facebook | Twitter | YouTube
Technorati Tags: hair loss, balding, hair loss treatments, androgenic alopecia, male pattern baldness, regrow hair, bald, hair replacement system, hair growth, follicular unit, hair transplant, hair transplants