This question comes from a member of our Hair Restoration Social Community and Discussion Forums:
I'm researching a follicular unit transplantation (FUT) procedure with a hair transplant surgeon in a different country, and wondering what will happen when it is time to remove the sutures or staples from the strip wound closure. Do I need to travel back to the surgeon who performed the procedure and have him/her remove the sutures/staples? Can I have a local physician perform the removal?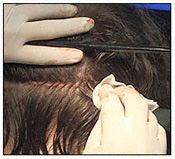 Although it is crucial that the operating hair restoration physician be the one to close the wound created by the follicular unit strip removal, he or she does not need to be present for the suture/staple removal. As long as the donor region is given sufficient time to heal and you've followed the post-operative instructions, a personal or local physician can effectively and safely remove the staples or sutures.
It's probably best to receive some type of instructions or documentation from your hair transplant surgeon and provide the physician performing the removal with this information. This way, there is no risk of early removal, missing any sutures/staples, or removing the sutures/staples in a manner unacceptable to the operating hair transplant surgeon (although it's unlikely this would occur). However, if you would feel more comfortable with a hair restoration expert removing the sutures/staples, feel free to review our list of recommended hair transplant surgeons and consult with a local doctor.
_______________
Blake Bloxham – formerly "Future_HT_Doc"
Editorial Assistant and Forum Co-Moderator for the Hair Transplant Network, the Hair Loss Learning Center, the Hair Loss Q&A Blog, and the Hair Restoration Forum
Follow our community on Twitter
Watch hair transplant videos on YouTube
Get Proven Hair Loss Treatments at the Best Prices by visiting our new Online Hair Loss Product Store
Technorati Tags: Hair Restoration, follicular unit transplantation, FUT, hair transplant surgeon, hair restoration physician, follicular unit strip, hair restoration expert