This insightful article was written by Dr. Paul Shapiro  of Bloomington, MN who is a member of the Coalition of Independent Hair Restoration Physicians.  
Here are few examples of hair transplant patients in which I believe dense packing in the hairline area is appropriate. I consider planting at densities between 40- 60 follicular units per square centimeter (FU/cm2) as dense packing. There are hair restoration patients in whom I will plant at densities from 60-80 FU/cm2, but they are the rare exceptions and need to be perfect candidates for what I would call super dense packing. In order for me to feel comfortable dense packing the hairline I think the following criteria need to be met:
1) The patient must be at least 30 years of age
2) The patent should have a family history that suggest his hair loss will not progress further than  a class  IV on the Norwood Scale of hair loss.
3) The donor area has to have at least an average density of 80 FU/cm2
4) The donor area has to have good laxity
5) The hair behind the hairline should have no or little evidence of miniaturization.
6) The crown should have no or little evidence of hair loss or miniaturization.
At Shapiro Medical Group, we have a camera which can take close up photographs of a 1 cm2 area of the skin which allows us to get a measurement of donor hair density and the density of our incisions. That is how we can get an accurate measurement of density. As you can see, to get an accurate count the existing hair has to shaved / buzzed. We rarely take postoperative density photographs because most post-op hair replacement patients do not want to buzz their new hair. Even it the patient did buzz his hair it is difficult to tell previous existing hair from transplanted hair in post operative photos. That is one of the reasons it is so difficult to do accurate post operative density studies. These cases were both done within the last month so I do not have 6 month results. I will post them when they return for their follow up visits.
Examples of dense packing are below
Case #1: I packed at a density of 60-80 FU/sq cm. He had all the criteria for a case in which I feel comfortable packing at super high densities. He is a 33 year old male with no family history of hair loss  more than a Norwood type IV. He has great donor density of greater then 100 FU/cm2., and no hair miniaturization or baldness behind his hairline. He also had no evidence of hair loss or miniaturization in his crown. I must stress we do not get many patients like this. But he is a good candidate for super dense packing. The photographs show my incisions ranged from 60 -80 FU/cm2. A total of 2164 FU's were planted.
Below are photographs showing his donor density, the density of my incisions, and day of surgery photos: (in the photos where the title is Hairs/cm2, it should read FU/cm2)
DONOR DENSITY
INCISION DENSITY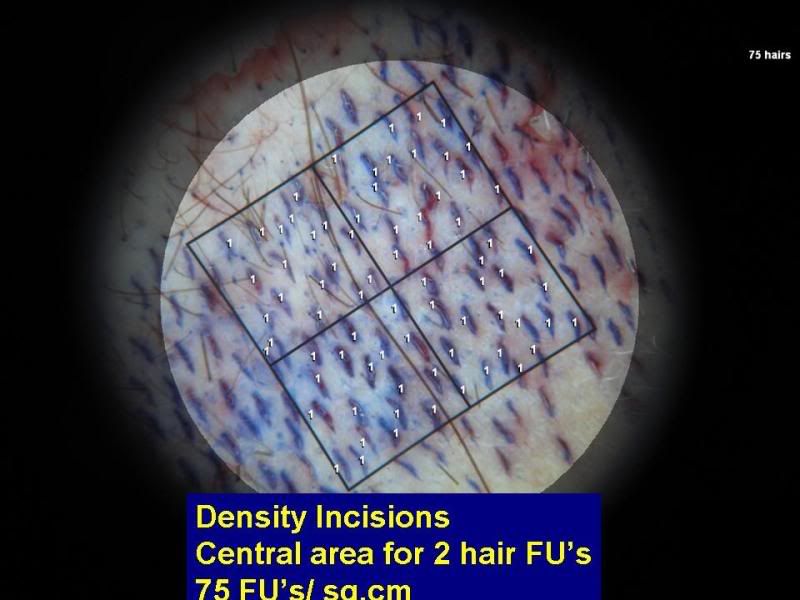 DAY OF SURGERY PHOTO (before and after comparison)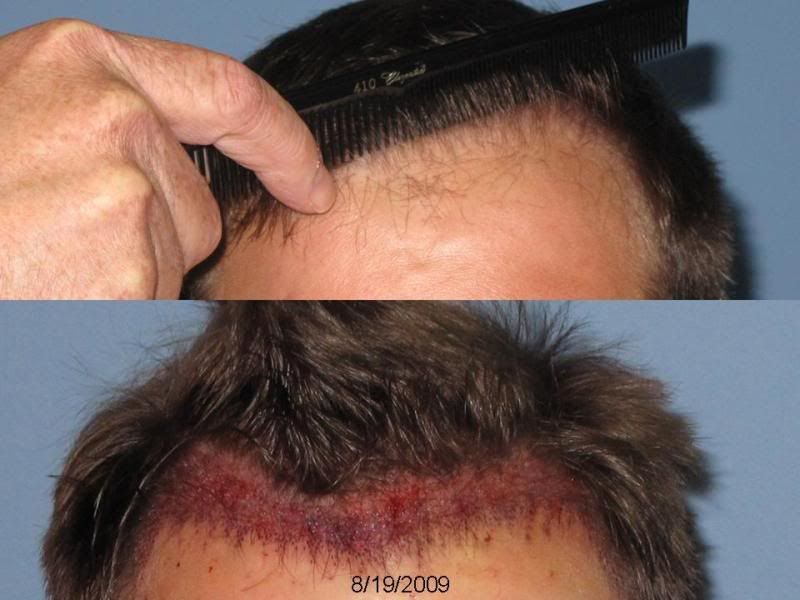 Case #2 I packed at densities of 40-50 FU/cm2.   He represents the more typical patient I see in which I feel comfortable doing dense packing.   He is a 38 year old male with most of the males in his family not progressing to greater then a Norwood type IV, but he did have an uncle who had Norwood type V hair loss.   His donor density was not as good as case #1 and there was some evidence of hair miniaturization in his central core and crown areas.
DONOR DENSITY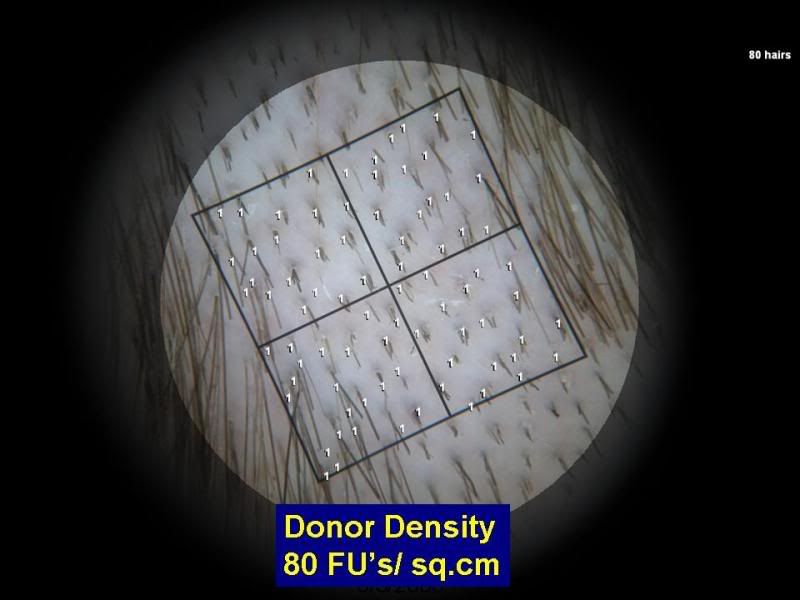 INCISION DENSITY
DAY OF SURGERY PHOTO, (before and after comparison)
Paul Shapiro, MD
—
Bill
Associate Publisher/Editor
Technorati Tags: hair transplant, dense packing, follicular units, hair restoration, hair loss, Shapiro Medical Group, hair density, hair replacement, transplanted hair, hair miniaturization, baldness