This question, asked by a member of our hair loss social community and discussion forums, was answered by "Jotronic" – a clinic representative for Coalition hair transplant surgeons Dr. Victor Hasson and Jerry Wong, and Coalition hair transplant surgeon Dr. Glenn Charles: 
I'm curious, what portion of the hair transplant scar or "strip scar" is most prone to stretching during the healing phase?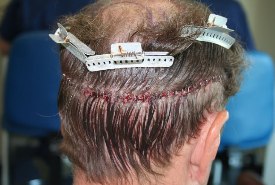 Jotronic:
The areas most prone to stretching are the "corners" in between the sides and the back near the mastoid processes (behind the ear lobe). When removing the strip these are the areas that are tightest and must be addressed with the most care.
Dr. Charles:
I agree with Jotronic, but also wanted to point out that the lower parts of the donor area towards the nape of the neck tend to leave wider scars. Probably because the neck muscles attach to the scalp in that area and pull on the wound during the healing process.
__________________
Blake – aka Future_HT_Doc
Editorial Assistant and Forum Co-Moderator for the Hair Transplant Network, the Hair Loss Learning Center, the Hair Loss Q&A Blog, and the Hair Restoration Forum
Follow our community on Twitter
Watch hair transplant videos on YouTube
Technorati Tags: hair loss, hair transplant, hair transplant scar, strip scar