I want to know all about hair transplant surgery. Can you help me?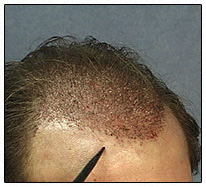 There is a lot to learn about hair transplant surgery. If you are considering surgical hair restoration, I can point you in the direction of a number of valuable resources but, in the end, you will need to dedicate some time to research.
The gold standard for hair transplantation is called follicular unit transplantation (FUT), more commonly known as "strip surgery". In this procedure, the hair transplant surgeon harvests a strip of hair-bearing scalp from the permanent donor area at the rear and sides of the head. It is then dissected under microscopic magnification into naturally occurring "follicular units" of 1 to 4 hairs by a group of surgical assistants. Those follicular units are then implanted into the bald or thinning areas of the scalp by the physician who designs the overall look of the transplant and creates the recipient sites in such a way as to mimic the appearance of natural hair growth.
There is also another method known as follicular unit extraction (FUE) that has continued to gain in popularity over the past few years. In this procedure, the follicular unit grafts are harvested individually using a small punch. In contrast to strip surgery, FUE does not result in a linear scar across the back of the head but rather numerous, tiny dot-like scars that can be practically invisible under the right conditions. Not all hair transplant patients are good candidates for FUE and the complexity of the procedure drives up the cost and also adds to the risk of lower yield.
For more information, I recommend following the links contained in this email. I also suggest visiting our hair loss forum and social network where you can interact with real hair transplant patients and many of the world's leading hair transplant surgeons.
Finally, you may wish to consult our interactive map to locate the pre-screened, quality hair transplant surgeons we recommend in your area. To learn about our criteria for recommending physicians, click here.
—-
David (TakingThePlunge)
Editorial Assistant and Forum Co-Moderator for the Hair Transplant Network, the Coalition Hair Loss Learning Center, and the Hair Loss Q & A Blog.
To share ideas with other hair loss sufferers visit the hair loss forumand social community
Get Proven Treatments at the Best Prices by visiting our new online hair loss treatment shop.
Technorati Tags: hair transplant, hair restoration, hair transplantation, follicular unit, FUT, bald, hair growth, follicular unit extraction, FUE, hair loss