I'm interested in the FUE NeoGraft hair transplant procedure.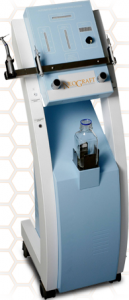 It is important to note that NeoGraft is not a procedure but rather a tool for performing follicular unit extraction (FUE) hair transplantation. Currently, Dr. Mike Vories of South Carolina is the only one of our recommended hair restoration physicians I am aware of that utilizes the NeoGraft machine for performing FUE. To learn about our criteria for recommending physicians, click here.
While skilled and experienced hair transplant surgeons like Dr. Vories can produce excellent results using the tool, the machine has been marketed in the past to inexperienced doctors that do not perform hair transplants on a regular basis. You should carefully research any clinic prior to undergoing surgery with them. A great place to begin is our hair loss forum and social network.
You may also find the following articles from our Hair Loss Q&A Blog informative:
How Does the NeoGraft Hair Transplant Machine Compare to Other Follicular Unit Extraction FUE Extraction Devices?
NeoGraft Hair Transplant – Dr. Mike Vories Shares His Opinion of the Device
Can Inexperienced Physicians Perform Quality Follicular Unit Extraction (FUE) with the NeoGraft Device?
—-
David (TakingThePlunge)
Editorial Assistant and Forum Co-Moderator for the Hair Transplant Network, the Coalition Hair Loss Learning Center, and the Hair Loss Q & A Blog.
To share ideas with other hair loss sufferers visit the hair loss forum and social community
Technorati Tags: FUE, NeoGraft, hair transplant, follicular unit extraction, hair transplantation, hair restoration, hair transplants, hair loss