Although eyelash transplantation is performed much like a modern hair transplant procedure (and is often practiced by the same hair restoration physicians), finding information on the technique is not an easy task. Because of this, coalition surgeon Dr. Bijan Feriduni wrote a descriptive article on eyelash transplantation. According to Dr. Feriduni:
1. Indications :
Basically, there are two groups, for whom eyelash transplantation is  eligible :
A. Women and men – independent of age, skin color, hair color or skin type, because this aesthetic operation is eligible for everybody who would like to have longer or fuller eyelashes;
B. The second group comprises those people for whom the method is used as a reconstructive measure. After an accident or burnings, the eyelash transplant procedure is the only possibility to have ones own eyelashes.
2. Techniques for eyelash transplantation in my clinic :
Harvesting technique – (Follicular unit strip harvesting)
A small strip with long donor hair (I always try to use  thick, strong, double hair units ) is harvested from the back of the scalp, the long donor hairs are stereo-microscopically dissected (trimmed as closely as possible  with a minimum of surrounding tissue) from the strip and prepared for transplantation.
Transplantation technique – (Reverse follicular unit harvested grafts using long double hair unit grafts)

A special surgical needle is used to puncture the eyelid at a reversed angle about 5 to 10mm above the margin at the level where the eyelash is to be placed (Eye protection shields/light sedation with Midazolam). The long hair graft is inserted into the eyelid at this puncture point and carefully pulled through until the hair roots have reached the margin, leaving the long hair to lie down at the lower eyelid. Each hair graft is inserted one by one into the eyelid using this particular technique. After the insertion of the hair grafts, each donor eyelash is carefully pulled into place and trimmed to its proper length.
3. The growth process/Some points to take in consideration :
– In general, the transplanted eyelash hairs start growing immediately after the treatment or 3-4 months postoperative
-The lashes must be weekly trimmed to the right length
-Eyelash hairs can curve in different directions, therefore they need to be stimulated to behave like natural lashes, meaning the transplanted eyelashes must be covered with an eyelash oil and curled daily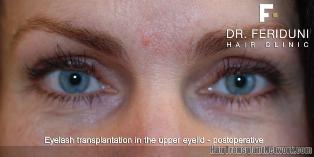 _______________
Blake – aka Future_HT_Doc
Editorial Assistant and Forum Co-Moderator for the Hair Transplant Network, the Hair Loss Learning Center, the Hair Loss Q&A Blog, and the Hair Restoration Forum
Follow our community on Twitter
Watch hair transplant videos on YouTube
Technorati Tags: eyelash transplantation, hair transplant, hair restoration, eyelash transplant procedure, eyelashes, Follicular unit strip harvesting, donor hairs, follicular unit