This question comes from a member of our hair loss social community and discussion forums: 
I recently scheduled a hair transplant procedure out-of-state, and I'm now trying to book the travel arrangements for the trip. I'm looking into the air travel and wondering when I should book my flights? When do patients normally fly after hair transplant surgery?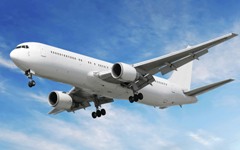 There seems to be mixed opinion when it comes to flying after hair transplant surgery.
Some experts recommend flying the day after surgery. They state that patients should visit the clinic the day after the procedure for a post-operative wash and checkup, and then fly home. These hair restoration experts believe that the forehead and facial swelling sometimes associated with hair transplantation truly arises the second or third day after the procedure, and traveling before this inflammation begins is usually easier on patients.
Other experts disagree, and believe patients should spend a few days healing and recovering before traveling by plane. This helps ensure patients don't accidentally disturb the newly implanted follicular units and affect the overall yield.
Either way, most hair loss physicians do not believe the changes in pressure and elevation associated with flying cause any excessive bleeding or damage to the new grafts. This means if patients truly want to fly the day after hair transplant surgery, they can. Knowing this, it is likely best to review the individual clinic's policies/recommendations on traveling after a hair transplant and discuss flying plans with the operating physician.
_____________
Blake Bloxham – formerly "Future_HT_Doc"
Editorial Assistant and Forum Co-Moderator for the Hair Transplant Network, the Hair Loss Learning
Center, the Hair Loss Q&A Blog, and the Hair Restoration Forum
Follow our community on Twitter
Watch hair transplant videos on YouTube
Technorati Tags: hair loss, hair transplant, hair transplant surgery, hair restoration, hair transplantation