This common question, from a member of our hair loss social community and discussion forums, was answered by "Spex" – a consultant for Coalition hair transplant surgeon Dr. Alan Feller:
I've finally decided to undergo hair transplant surgery, but I want to make sure I'm asking appropriate questions and obtaining the right information before selecting a surgeon and scheduling a procedure. What type of questions should I ask during a hair transplant surgery consultation? Should I look for any particular "red flags?"
Spex: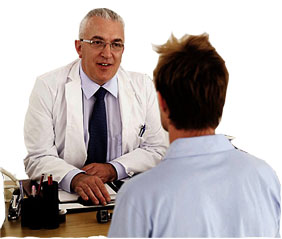 Below is a comprehensive list of questions to ask during a hair transplantation consultation (which I've acquired from various experienced hair loss sufferers online).
Make sure you have these written down (along with any other questions that come to mind). Also, if at all possible, take someone you trust with you to the consultation, as your emotions will be running high and it's easy to forget to ask the relevant questions:
 1.What kind of procedures does the clinic perform? Follicular Unit Transplantation (FUT)? Follicular Unit Extraction (FUE)? Body Hair Transplantation (BHT)? All three? If so, for how long and ask to see results and be put in touch with actual patients.
2. What type of donor closure does the hair transplant surgeon use? Does he use sutures or staples, and why does he use his chosen technique? Also, what type and size of instruments does the physician use to make recipient incisions?
3.What is the length of time that this hair transplant physician has been performing hair transplant surgery? Ask about his credentials and experience and governing bodies he /she is assosiated with.
4. How many hair transplant technicians are employeed with their clinic? What is the length of time each hair technician has worked for the clinic?
5. Ask if you are a good candidate, and ask for an explanation to why? Ask to see similar comparisons.
6. What is the state of your donor region and how many grafts does the surgeon feel can be safely harvested in one session (and via multiple surgeries/methods)?
7. Gain an estimate of how many grafts you require now, and also how many are likely to be required in the future (based on your hair restoration goal).
8. What the doctor thinks about you donor laxity and how this can be improved prior to surgery IF required. Can they demonstrate how to do this?
9. Make sure you discuss YOUR exact hair restoration goals (hairline, temples, forelock, crown, hair density, hair coverage, etc).
10. Ask how many grafts the doctor will use in your balding area.
11. Ask if your goals are reasonable, and if they can be met with your hair characterisitcs.
12. Establish how suitable you are for a hair transplant procedure ( in their opinion).
13. Very importantly, ask if you can meet or talk to previous patients in similar circumstances to yourself. Also, ask to see testimonials and plenty of photos.
14. Ask about costs involved – prices of consultations, cost per graft, additional aftercare, and medications.  Most clinics vary to some degree and its good to know exactly where you stand!
15. Do they offer a reduced fee for short notice surgery? What about travel reimbursement? Any sort of waiting list?
16. Discuss medications like Propecia (finasteride) and Rogaine (minoxidil) to help prevent further hair loss. Ask if they can prescribe these medications?
17. Does this hair transplant clinic dissect hair grafts from the FUT strip using microscopes?
18. Ask about post-op and pre-op instructions. Can you have a list (hard copy)?
19. Can you record the entire consultation? If no, walk out.
20. Has the physician had hair restoration surgery? If so, with who?
Red flags (look out for these, and take any red flag into consideration when scheduling hair transplant surgery with any particular clinic):
"Just had a cancellation and we can see you next week."
 Cold calling by consultants or doctors
No results to show
No patients to speak to or visit in person
Small number of staff
Discounts and special offers may be indicative of but not necessarily an issue.  Many reputable hair transplant clinics provide special offers and discounts to help prospective patients.
By seeking reasonable answers to these questions and avoiding blatant "red flags," hair loss sufferers should be able to successfully navigate the hair transplant consultation process.
________________
Blake Bloxham – formerly "Future_HT_Doc"
Editorial Assistant and Forum Co-Moderator for the Hair Transplant Network, the Hair Loss Learning Center, the Hair Loss Q&A Blog, and the Hair Restoration Forum
Follow our community on Twitter
Watch hair transplant videos on YouTube
Technorati Tags: hair loss, hair transplant, hair transplant surgery, hair transplantation, Follicular Unit Transplantation, FUT, Follicular Unit Extraction, FUE, Body Hair Transplantation, BHT, hair restoration, hair transplant procedure, Propecia, finasteride, Rogaine, minoxidil