This question comes from a member of  our Hair Restoration Social Community and Discussion Forums:
I'm looking to undergo a moderately sized follicular unit extraction (FUE) procedure, but I'm having trouble finding information on the actual growth rate/yield I can expect from FUE. What kind of growth rate can I expect from a follicular unit extraction (FUE) procedure?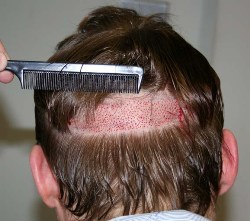 I think there are two things to consider with regard to follicular unit extraction (FUE) and yield/growth rate: 1. any damage to follicular unit grafts during the extraction phase (which would damage the follicle and result in a graft that didn't grow) and 2. a graft extracted from outside the universal extraction zone, which would be susceptible to future hair loss (as the graft wouldn't be as resistant to dihydrotestosterone – DHT).
The first variable is dependent on the skill of the hair restoration surgeon and, to a much lesser extent, the tool used. If you visit an experienced FUE surgeon, my guess is that the '90 – 95%' number often quoted (which is comparable to the 95% growth rate experienced with traditional follicular unit transplantation) would be accurate. If the practitioner has less experience with extracting follicular units, than issues with transection become apparent and the 'yield rate' will suffer as a result.
The second variable is really up to the hair transplant surgeon, how many grafts he/she is trying to extract, and whether or not they feel like the follicles in these extraction areas (outside of the universal safe zone) are susceptible to future loss or not.
Some hair transplant surgeons seem to think that analyzing familial balding patterns and the patient's current situation provide a good indication of whether these grafts should be utilized or not. Think about it this way – if the hair transplant surgeon is certain the patient won't progress past a Norwood V, for example, than he/she would probably feel comfortable removing grafts from zones that would normally be affected by loss in a Norwood VI – VII patient.
Personally, I think this is a bit of a gamble, and something that can affect the actual yield rate for FUE procedures. If the surgeon is wrong and these grafts aren't as resistant to DHT as assumed, then they could shed (eventually) and affect the yield/result as a whole.
If you select a talented, ethical  hair transplant surgeon for your FUE procedure, my guess is that a modestly sized session could yield around 90 -95% growth.
_______________
Blake – aka Future_HT_Doc
Editorial Assistant and Forum Co-Moderator for the Hair Transplant Network, the Hair Loss Learning Center, the Hair Loss Q&A Blog, and the Hair Restoration Forum
Follow our community on Twitter
Watch hair transplant videos on YouTube
Get Proven Hair Loss Treatments at the Best Prices by visiting our new Online Hair Loss Product Store
Technorati Tags: Hair Restoration, follicular unit extraction, FUE, follicular unit graft, dihydrotestosterone, DHT, hair restoration surgeon, follicular unit transplantation, hair transplant surgeon