I just want to know the percentage of success in hair transplants.  For example, is a good surgeon about 80% and 20 % depends on the patient's care?   Do the hair transplant clinics refund money for any hair did not grow?
Answer: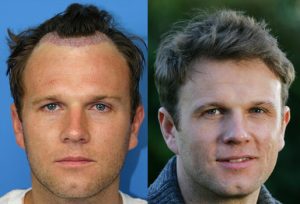 A quality hair transplant surgeon with a lot of experience, has a much higher success rate in overall growth yield and producing a thick, natural looking head of hair that meets a patient's goals.  However, patients need to know and understand that there are always risks of unknown variables that could interfere with the success of the surgery.
No surgeon will bat a 1000 – in other words, every surgeon has cases of less than optimal results, but hair restoration physicians recommended on the Hair Transplant Network are held to a high standard and will stand by their patients. This does not necessarily mean you will get a refund in the event of a problem. But in many cases, surgeons will replace the grafts that did not grow for free and work to rectify any problem that occurred during or after hair restoration free of charge.
In my opinion, it is highly important to discuss all your "what if" conditional questions with your hair loss doctor before undergoing surgery. That way, there are no questions if in the rare case, something goes wrong.
For a free online virtual consult with one of our prescreened hair transplant surgeons, click here.
Bill, Managing Publisher of the Hair Transplant Network, the Coalition Hair Loss Learning Center, and the Hair Loss Q & A Blog.