This question comes from a member of the Hair Restoration Discussion Forums and Social Community:
What is the open donor harvest technique used in a follicular unit transplantation (FUT) hair transplant procedure? How does it differ from harvesting a normal strip from the universal donor zone?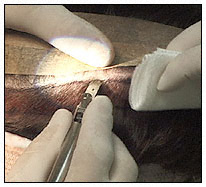 Although the open donor harvest technique is described as a unique mechanism,  it's actually quite similar to the normal strip extraction utilized in a follicular unit transplantation (FUT) procedure. In a standard FUT procedure, a strip of dihydrotestosterone/DHT (the hormone directly responsible for hair loss) resistant hair is removed from the back of the scalp (also know as the universal safe zone), dissected, and implanted into balding areas.
In an open donor harvest procedure, a strip is harvested from the DHT resistant zone, but instead of making a straight incision (and potentially cutting or transecting viable follicular units), the hair transplant surgeon carefully cuts around (not through) unused follicular unit grafts at the incision borders. In doing so, the transection rate is quite low (quoted as low as 2%), but strip harvesting takes considerably longer and creates the potential for a crooked or uneven scar. However, many hair transplant surgeons state that no matter how the follicular units are harvested, scalp trauma and excessive transection are always taken into consideration.
Whether using the open harvest technique or simply keeping excessive transection in mind, most excellent hair restoration physicians are able to efficiently remove strips while minimizing trauma in the donor area.
_______________
Blake – aka Future_HT_Doc
Editorial Assistant and Forum Co-Moderator for the Hair Transplant Network, the Hair Loss Learning Center, the Hair Loss Q&A Blog, and the Hair Restoration Forum
Follow our community on Twitter
Watch hair transplant videos on YouTube
Technorati Tags: Hair Restoration, follicular unit transplantation, FUT, hair transplant, strip, universal donor zone, dihydrotestosterone, DHT, hair loss, universal safe zone, balding, follicular units, hair transplant surgeon, follicular unit grafts, hair restoration physicians