This question, asked by a member of our hair loss social community and discussion forums, was answered by Coalition hair transplant surgeon Dr. Carlos Wesley:
I'm looking to undergo Follicular Unit Extraction (FUE), but I was wondering what sort of follicular unit graft transection rates are associated with the procedure? Does it matter what size extraction punch is used? Will a bigger punch decrease transection, but increase FUE scarring?
Dr. Carlos Wesley: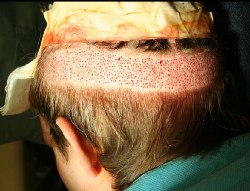 Follicle transection rates depend on the patient characteristics as well as the inner diameter of the punch.
Among the field's most experienced practitioners of FUE, transection rates range from 2% to 8.5% for the 1-mm punch and from 3% to 10% using the 0.75-mm punch. A 1-mm punch can exact an average graft of 2.5 hairs/graft, while a 0.75-mm punch yields approximately 2.1 hairs per graft.
I think most of us in the fied agree that punches of 1mm or larger can result in visually unacceptable donor area scarring.
______________
Blake – aka Future_HT_Doc
Editorial Assistant and Forum Co-Moderator for the Hair Transplant Network, the Hair Loss Learning Center, the Hair Loss Q&A Blog, and the Hair Restoration Forum
Follow our community on Twitter
Watch hair transplant videos on YouTube
Technorati Tags: hair loss, hair transplant, Follicular Unit Extraction, FUE, follicular unit graft