What is best treatment for frontal baldness (receding hairline)? Most products only work on the crown it seems.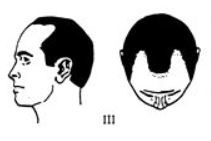 Unfortunately, there are no non-surgical hair loss treatments proven to regrow a receding hairline. Rogaine (minoxidil) and Propecia (finasteride), the only two clinically proven and FDA approved medical treatments for male pattern baldness, work best on the crown.
The only sure way to restore a receding hairline is through hair transplant surgery. However, not all hair loss sufferers are candidates for surgical hair restoration. If you would like to learn more about hair transplants and find out if surgery is right for you, I suggest contacting one or more of the pre-screened, quality hair transplant surgeons recommended by the Hair Transplant Network.
—-
David (TakingThePlunge)
Editorial Assistant and Forum Co-Moderator for the Hair Transplant Network, the Coalition Hair Loss Learning Center, and the Hair Loss Q & A Blog.
To share ideas with other hair loss sufferers visit the hair loss forum and social community.
Technorati Tags: baldness, hair loss treatments, Rogaine, minoxidil, Propecia, finasteride, male pattern baldness, hair transplant, hair loss, hair restoration, hair transplants