This question comes from a member of our hair loss social community and discussion forums: 
I'm looking into hair transplant surgery. However, I hear hair transplant patients talking about "shock loss," and it's making me nervous. What is shock loss? How can a surgery to give me more hair cause hair loss? Is this hair loss permanent?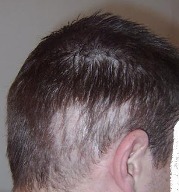 There are two types of shock loss: permanent and temporary.
Temporary shock loss occurs when strong, permanent follicles are exposed to trauma. The follicles are "shocked" into a temporary resting state ("telogen") and return to normal function after a slightly prolonged dormant period. Usually, around 3-5 months. This happens most commonly in the donor area during hair transplant surgery.
Permanent shock loss occurs when weakened, pseudo-miniaturized follicles are exposed to similar trauma. These follicles are already "on their last leg," and the stress pushes them over the edge. This causes "permanent shock loss" that does not grow back. This happens almost exclusively in the recipient area during hair transplant surgery. The zones surrounding the transplanted area are filled with these weakened, androgenic alopecia-affected follicles. The strain from the surgery is too great and the follicles simply can't bounce back. It's important to know that these follicles were going to fall out regardless. However, the shock loss simply speeds the process up.
Shock loss can be a concerning topic for hair transplant patients. However, it's almost always temporary or occurs in follicles that were going to shed regardless – as described above. Your hair restoration doctor will go over all this with you during the consultation and pre-operative discussion. I understand the concern. However, hair transplant surgeries should always result in "more hair." It is important to understand what causes shock loss. It's also important to realize it could happen. However, it is not usually a reason to forgo hair transplant surgery.
____________
Blake Bloxham – formerly "Future_HT_Doc"
Editorial Assistant and Forum Co-Moderator for the Hair Transplant Network, the Hair Loss Learning
Center, the Hair Loss Q&A Blog, and the Hair Restoration Forum
Follow our community on Twitter
Watch hair transplant videos on YouTube
Technorati Tags: hair loss, hair transplant surgery, shock loss, hair transplant, hair restoration