I'm interested in having a hair transplant, but I'm worried about how it will look if I continue to lose more hair.  Can you help?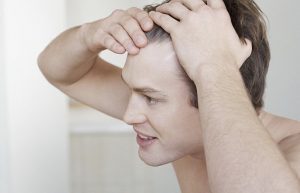 Unfortunately, the progression of androgenic alopecia (genetic hair loss) is inevitable however, there are medications that can help slow down the progression and even regrow hair for some individuals. With that said, even individuals who do not suffer from genetic hair loss lose overall hair density over time and with age.
Currently, there are two medications that are FDA approved to treat genetic hair loss and they are Rogaine (minoxidil) and Propecia (finasteride). The majority of hair loss sufferers add Nizoral to their hair loss arsenal, this combination is referred to as the "big 3". The majority of hair loss sufferers are able to at the very least slow the progression of hair loss significantly with the use of the aforementioned treatments.
Selecting an ethical, talented, skilled and experienced hair transplant surgeon is crucial for receiving natural and undetectable results that will stand the test of time. Sadly, there is no crystal ball that allows surgeons to know the full extent of a patients future hair loss, but there are tools that help them asses the current hair loss situation; keeping the worst case scenario in mind.
Today, most surgeons carry high magnification glasses or cameras in their office for consultations. These high magnification tools allow the physician to see hair miniaturization at the microscopic level, this level of miniaturization can not be seen by the naked eye. However, the use of these tools do not always determine how the patients hair loss will progress in the future, but it does give them a clear understanding of the current hair loss and where the patient is headed in the near future.
Another indicator of how an individuals hair loss will progress is by looking at their family history, since androgenic alopecia is a genetic condition that often affects several individuals in the family. There is generally at least one family member that an individuals hair loss mirrors. Looking at a persons family history can provide the physician with enough information to make an informed decision about how conservative or aggressive they can be with the restoration.  When done right a hair transplant can last a lifetime and if the donor supply is conserved and utilized correctly a patient may be able to have several touch-up procedures over a lifetime to maintain their appearance.
Written and published by,
Melvin- Editorial Assistant and Forum Co-Moderator for the Hair Transplant Network and The Coalition of Independent Hair Restoration Physicians